Donetsk protesters prepare for Kiev military attack, referendum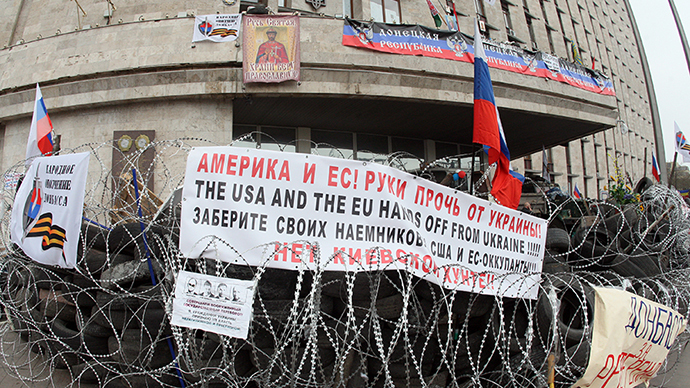 As the armed storming of the Donetsk administration building seized by the protesters seems imminent, the anti-government movement is preparing for the referendum set to form their new way of life and the country they're going to live in.
Masked men, who are mostly civil volunteers, but also police and army defectors, say they "defend their motherland from the fascist army that's going to kill them." They also demand "a referendum to be independent from Kiev" and are in favor of "being with Russia."
In the local administration building, the protest movement makes Molotov cocktails: they say they want to avoid any violence, but if there is a crackdown on them, they will be forced to use whatever they have.
PHOTO: #Ukraine military trucks on their way to #Donetskpic.twitter.com/BjfqoYvDZmhttp://t.co/W693Bbji0z

— RT (@RT_com) April 10, 2014
"I only have a stick to defend myself. They are coming armed with machine guns, and all I had yesterday for example was a chair leg," a masked protester said.
The Donetsk protesters fear the repetition of Kharkov scenario, where police cleared the demonstrators in a very violent way, detaining at least 70 people.
Donetsk is known to be the Ukrainian industrial capital, with about 1 million people living there. The Donetsk region is home to 10 per cent of the country's population.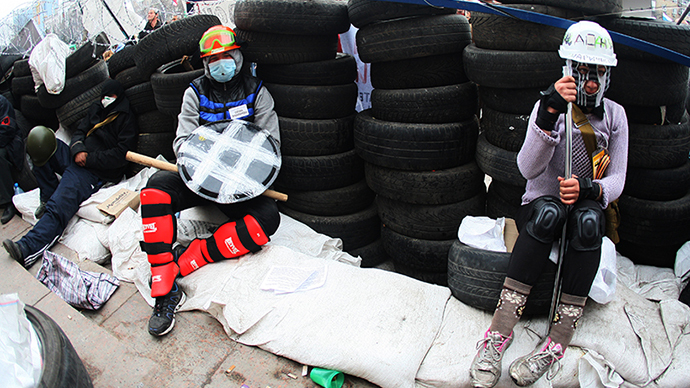 In the local administration, there are representatives of almost every big town or city in the Donetsk region, and each city or town occupies a floor in the building.
The protesters explained their position to RT.
"The protest in Donetsk is against nationalism, we are for social justice, the creation of our republic means drastic changes in the way our territory is organized. We are for equality of languages. We are against the oppression by the majority by the nationalist minority, and against threatening ethnic Russians."
Another protester, wearing a mask, spoke about the industrial wealth of his region that seems to vanish in Kiev for the most part.
"Donetsk region sends about 470 million dollars to Kiev, and less than 150 million returns. All the mines and enterprises in Donetsk are prosperous."
Watch more in RT's Maria Finoshina's report.
You can share this story on social media: