Holocaust memorial vandalized in Odessa, Kiev protesters call to burn WWII hero symbols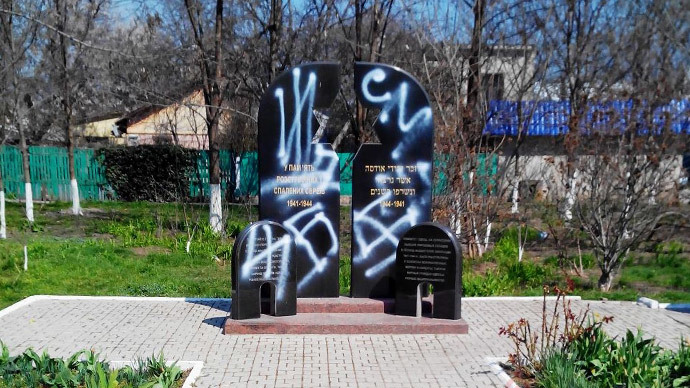 The memorial to Holocaust victims has been vandalized in Odessa, southern Ukraine. The perpetrators drew Nazi symbols-swastika and wolf-hook. While protesters in Kiev are demanding the arrest of those who wear St. George's ribbons, symbol of WWII heroes.
The memorial to Holocaust victims in Odessa, erected on the square named after a Soviet commander Fedor Tolobyhin, has been vandalized overnight on Tuesday, local media reported.
Unidentified people painted the memorial with swastikas and wolf hooks, symbols that have been connected with Nazi ideology since the beginning of the 20th century.
The memorial was opened last October in commemoration of tens of thousands Odessa residents that died in the 1941 massacre.
"Out of the 25 thousand of people killed about 22 thousand were Jews, mainly children, women and old people. The rest were Soviet soldiers and marines who protected the city from the Nazis. All were burned by Romanian occupants," said Roman Schwartzman, head of the association of former Nazi prisoners.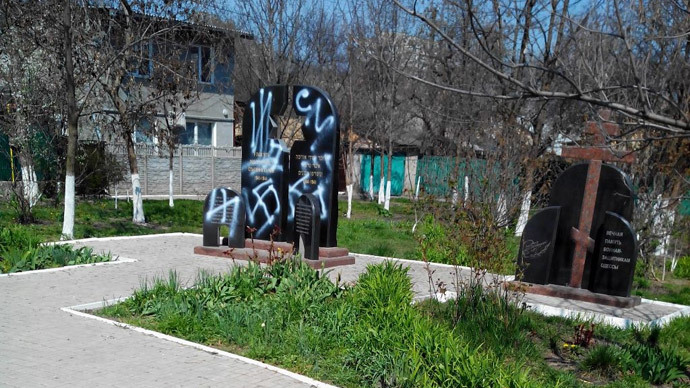 This is not the first time WWII monument is vandalized in post-coup Ukraine. In late February the 'Soviet Soldier' – a monument commemorating the collective sacrifice of the Soviet army against Nazi forces – was toppled in the town of Stryi, western Ukraine.
Meanwhile, protesters in Kiev are demanding to send to prison for wearing St. George's ribbons, symbol of WWII heroes, and other "Russian symbols."
"We really want to rip off… St. George's ribbon. It has stopped to be the symbol commemorating war, turning into a pro-Russian symbol" said the article "Rip off St George's ribbon" in the a Ukrainian daily the "Commentary."
Eastern Ukraine has been gripped by pro-Russian protests with the people demanding to hold a referendum and secede from Ukraine. Protesters in cities of Kharkov, Lugansk, Nikolaev and Dnepropetrovsk have attempted to storm government buildings but were met with government crackdown. In Donetsk and Kharkov, activists even attempted to proclaim creation of republics independent from the new authorities in Kiev.
You can share this story on social media: