Federal Security Service knows Domodedovo suicide bomber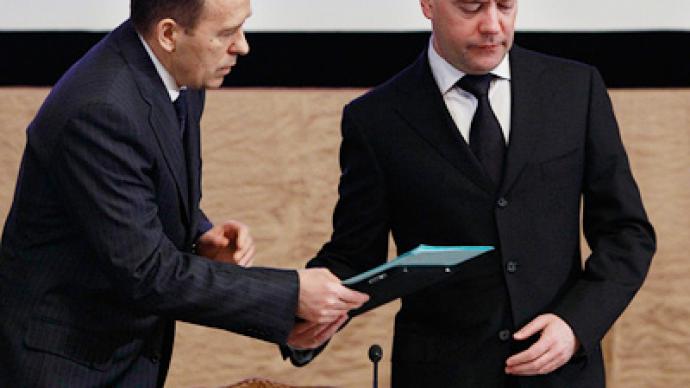 Russia's Federal Security Service has information about the organizers and suicide bomber involved in the Domodedovo terror attack on January 24.
The head of the Federal Security Service, Aleksandr Bortnikov, told Russian President Dmitry Medvedev on Thursday that his agency believes it knows who organized the attack which claimed 36 lives. Bortnikov added that the identity of the suicide bomber is already known. "The identity of the suicide bomber has been established. I will only say that he is 20 years old and a resident of one of the North Caucasus republics. He joined one of the gangs last August," he said. Bortnikov added that the fragments of the bomber's body contained "enormous amounts of strong narcotic and psychotropic substances."He announced that several people have been detained in connection with the attack. He said that those being held "possess information" about the crime. He noted that several people are wanted on suspicion of being the bomber's accomplices.The head of the Russian Investigative Committee Aleksandr Bastrykin told the president that investigators have evidence suggesting that members of the suicide bomber's family were involved in the attack. "In the course of rummage and investigation we have found first objective evidence that the suicide bomber's family members had been involved with the preparation of the terrorist act, providing practical assistance," he said during a meeting with the Russian president. Bastrykin added that forensic specialists conducted a number of complicated examinations in the first two days after the attack which allowed them to establish the bomber's identity. He said that a special investigative group has been dispatched to the North Caucasus in order to conduct further investigation. He said that this work has already brought "positive results."The Russian president has criticized those officials who have announced that the Domodedovo case has been solved."I think that it is completely unacceptable when, before conducting all investigative procedures and indictment preparation, filing it to the court, announcement of a sentence and its entry into force, somebody announces that the crime has been solved, let alone such a grim crime," Medvedev said. He added that the case has not been solved, but progress has been made. Medvedev ordered that the work continue and all evidence is found.
You can share this story on social media: