Sochi medal wrap-up, Day 10: Bobbers victory advance Russia to second place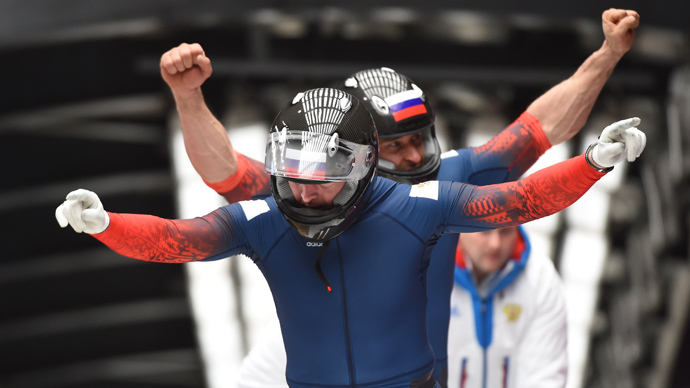 On day 10 of the Winter Olympics, the Russian national team has moved up to second place in the medal count with five golds after winning the two-man bobsleigh. Belarus grabbed two golds, with victories in women's biathlon and men's aerials skiing.
The day saw a number of delays as thick fog lingered over the mountains. The first competitions – women's biathlon – started only at 7:00 pm.
It's been a successful day for Belarus with Belarusian biathlete Darya Domracheva 27, clinching her third gold medal after winning the 12.5km mass-start race. Skiing over the finishing line in 35 minutes 25.6 seconds, she outraced Gabriella Soukalova of the Czech Republic, who won the silver medal, finishing 20.2 seconds back from the winner. Tiril Eckhoff of Norway won the bronze, finishing 27.3 seconds back of the leader, and just one second ahead of fourth-place German, Evi Sachenbacher-Stehle.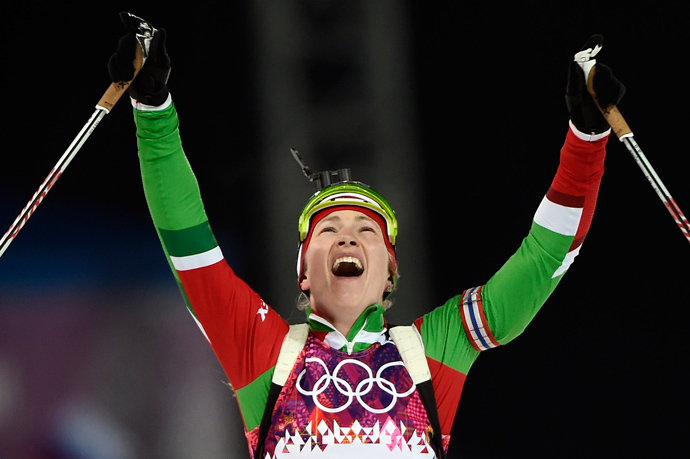 Another Belarusian athlete, Anton Kushnir, has enriched his country with a second gold medal in freestyle skiing on Monday. He successfully performed an exceptionally difficult double-full-full-double-full jump, which involves three flips and five twists, scoring 134.50 points. Following first place, David Morris of Australia and Zongyang Jia of China won silver and bronze, respectively.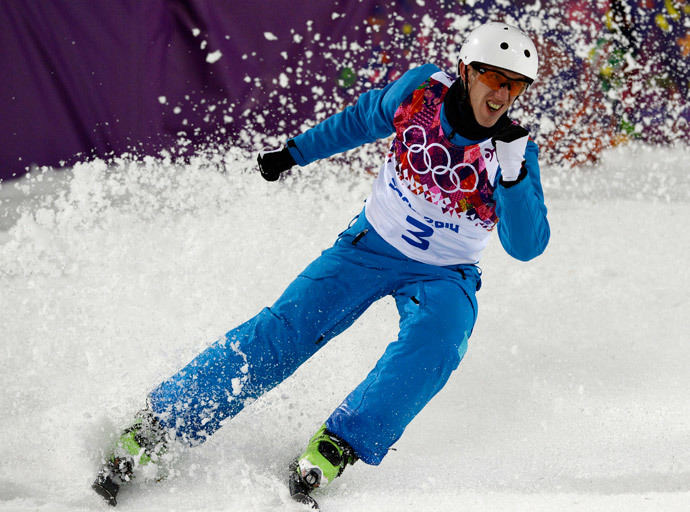 After ten days of competitions Belarus is ranked 7th with 5 gold and one bronze medal.
Meanwhile, Russia moved up to second place in the rankings, thanks to gold in the two-man bobsleigh. Russian Aleksandr Zubkov and Aleksey Voevoda have won gold in the two-man bobsleigh, clocking 3:45.39.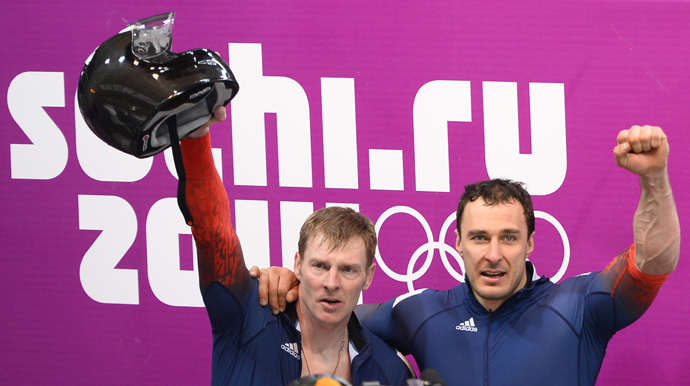 Germany kept its first place in the rankings as it won another gold in the men's ski jumping team event as it scored a total of 1041.1 points after the final round. For Germany, represented by Andreas Wank, Marinus Kraus, Andres Wellinger and Severin Freund, it is the third gold in the event.
The US set a new Olympic record in the Ice Dance Free Dance figure skating competition, as Meryl Davis and Charlie White won gold with a total score of 195.52 after both the short and free dances.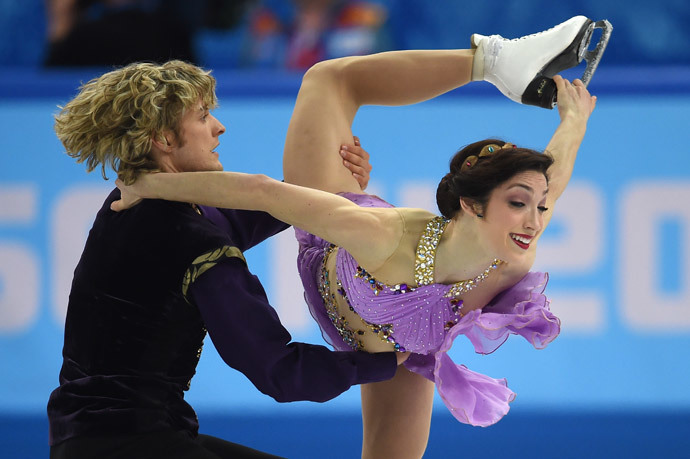 Canada's Tessa Virtue and Scott Moir grabbed silver with a total of 190.99 points. Russia's figure skating duo, Elena Ilinykh and Nikita Katsalapov, won the bronze medal with a total of 183.48.
On Tuesday, there will be seven more competitions held with gold medals on the line, including biathlon, skiing, skating, Nordic combined, freestyle skiing, snowboarding and short track. Also, a full list of participants in the men's hockey quarterfinal tournament will be announced.
You can share this story on social media: