Hockey chiller: Disallowed goal lifts US to beat Russia in extended shootout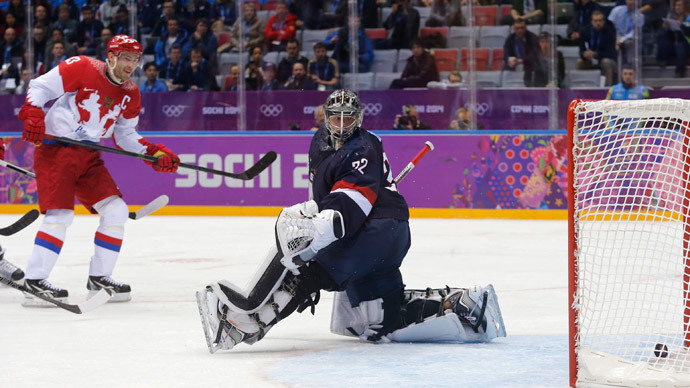 ​The US men's hockey team beat Russia in a dramatic shootout in a round robin game in Sochi, after Russian defenseman Fedor Tyutin had a goal chalked off – sparking mass indignation among home supporters.
Russia equalized half-way through the third period, and seemingly capped their comeback three minutes later when Tyutin launched a powerful shot from the top of the circle.

But after a lengthy replay, the US referee was told by video officials in the booth that the goal would not stand, as Jonathan Quick, the American netminder, had moved the post a few seconds before Tyutin's shots.

The two teams battled evenly through the remainder of regular time and overtime, before an electric shootout, in which both teams were constantly one accurate shot short of victory.

St. Louis Blues center TJ Oshie showed his mettle in the 8-round shooting competition, outwitting goaltender Sergey Bobrovsky on four of his six attempts.

"I aged a couple of years in that shootout," said United States coach Dan Bylsma.

"Play the same game and we'll win. It was a good game, very interesting, the best game we played so far. We showed great hockey," said star Russian forward Evgeni Malkin.

But for many, the spirit displayed was insufficient and hearty boos rang out from the capacity crowd of mostly home supporters, who felt they had been robbed of victory.

Russian internet users also flooded Twitter and other social networks complaining about the perceived injustice.
@XrayedTooMuch@_ryazhka congratulations on undeserved victory, hello from Russia       

— лиса (@_mslin) February 15, 2014
Voynov on Quick dislodging the net before the Tyutin disallowed goal: "I play with him. I know that's his style." #USAvRUS

— Dmitry Chesnokov (@dchesnokov) February 15, 2014
Russia won that game in regulation. No other level of hockey is that Tyutin goal disallowed. Tsk, tsk. #WinterOlympics

— Alan Robinson (@arobinson_Trib) February 15, 2014
If that goal by Tyutin was valid and the referees wrong, Russia will win the Olympic gold. At least that's what I believe ;-)

— Orthodox Warrior (@OrthodoxWarrior) February 15, 2014

But Russian officials said that they accepted the referees' decision, as international rules – under which the game was played – say that any movement of the goalposts automatically nullifies a goal (unlike the National Hockey League rules, which give the officials discretion). If the goaltender moves them accidentally, as Quick was adjudged to have done, then there is no sanction for the defending team at all.

"We contacted the Sochi refereeing supervisors following the game, and took the moment apart frame by frame. The decision cannot be questioned," said legendary goalkeeper and head of Russian Hockey Federation Vladislav Tretyak.

"However much we wish it was otherwise."

Even before the puck was dropped, the game resonated with political and sporting significance - the US still celebrates its team's victory over the Soviets in Lake Placid in 1980 as its most treasured Winter Games memory.

The show on the ice – between two bona fide contenders for Sochi gold - did not disappoint.

Superstar Russian center Pavel Datsyuk – whose participation had been in doubt due to a leg injury - opened the scoring in the second period, but defenseman Cam Fowler responded on the power play a few minutes later. Joe Pavelski put the Ice Yanks ahead again, only for Datsyuk to strike back with his second.

The tempo had been extremely high throughout, with players using the bigger Olympic ice to showcase their technical skills.

But even though both teams played as if it were their final, with a committed Vladimir Putin watching from the stands, the impact of the game on the tournament as a whole is as yet undetermined.

The winner of the four-country group – now likely Team USA, considering its 100 percent record and the relative weakness of Slovakia, which it will play next – gets a bye to the quarterfinals. The runner-up will likely have to play an additional game, and may face a stronger opponent afterwards, but still has every chance of making it through.

And Russia may yet get its chance for revenge in a more decisive matchup.

"It's not the end of the world. It was a great match today," said Russian sniper Ilya Kovalchuk.

"I hope we get to play them again here in Sochi."