15yo prodigy Yulia Lipnitskaya is Russia's youngest Winter Olympic champion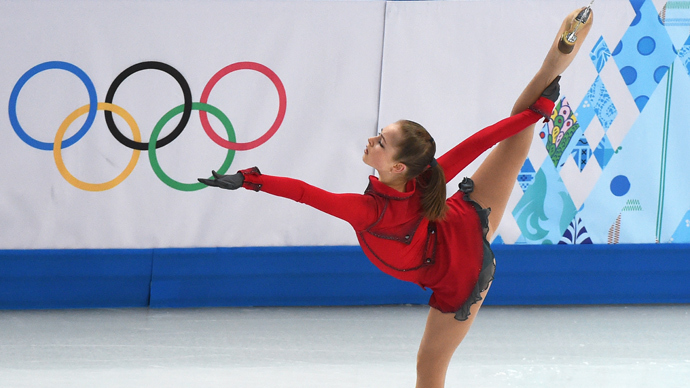 Fifteen-year-old Russian Yulia Lipnitskaya has become Russia's youngest athlete ever to win a gold medal at the Winter Olympics after her splendid free skate in the team figure skating event.
(NOTE:Previously, our report mistakenly stated that Lipnitskaya had become the youngest Olympic champion in the history of the Winter Games, for which we apologize. As it turned out, the youngest is South Korean short track speed skater Kim Yun-mi. She won her medal at the 1994 Winter Olympics in Lillehammer at the age of 13.)
She is six days younger than US figure skater Tara Lipinski was when she won a gold medal in Nagano in 1998. Lipnitskaya's victory makes her the youngest Olympic Gold medalist in figure skating history.
Lipnitskaya's phenomenal performances in the short program and free skate in the figure skating team competition left the Iceberg Skating Palace speechless. She received a standing ovation.
She has emerged as perhaps the biggest challenge to her main rivals, skaters from Italy, Canada, Japan and America.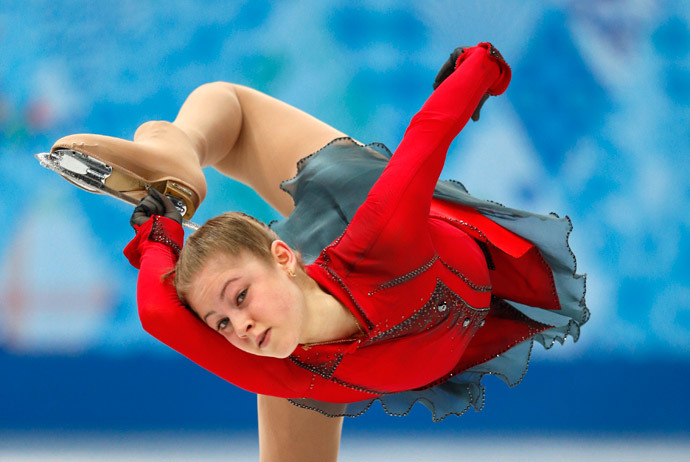 In her spectacular debut at the Winter Olympics, she easily out-skated far more experienced competitors, including Carolina Kostner of Italy in her third Olympics, and Japan's Mao Asada, competing in her second Games.
Although the Olympics is the first tournament of such scale for Yulia, she did not seem nervous. With no visible anxiety, she stood on the ice and performed as though she did it every day under such conditions.
Her nearly inhuman flexibility, combined with brilliant rotation on her spins and deft soaring jumps, left the audience amazed and impressed the judges.
She showed the second-best result ever in ladies' free skating at the Sunday event, scoring 141.51 points and earning a combined total of 214.41 points. The current record holder is South Korean figure skater Kim Yuna, who was the 2010 Olympic champion in ladies' singles with 150.06 and 228.56 points, respectively.
Lipnitskaya said that in the so-called zone of "tears and kisses," where skaters await results, the festive atmosphere reigned after her performance.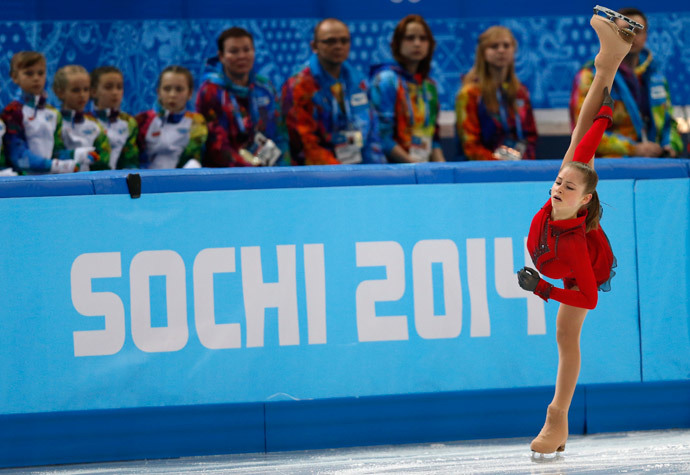 "Maksim Trankov [figure skater] gave me a hug,"
she said.
"Evgeny Plushenko said that everybody should learn from me."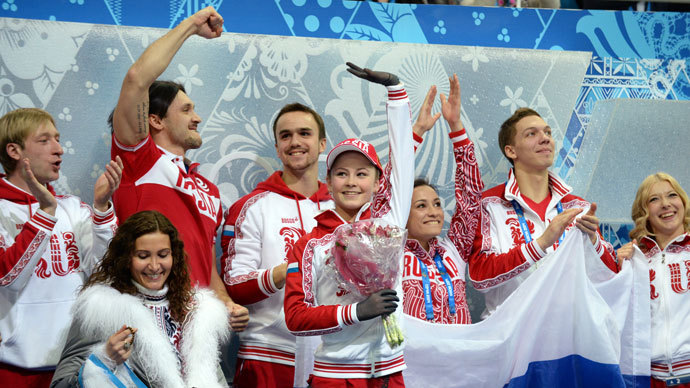 After her sensational free skate program to music from 'Schindler's List', Lipnitskaya modestly told journalists that this was not her best performance.
"For me, this skate was not the best. We will work on mistakes so that on the individual championship there are no flaws," she said. "It was annoying that I failed with the last rotation," she confessed. "And, yes, I could strengthen jumps. In the individual tournament, I set the highest goals."
She will now fly home to Moscow, where she trains, and return to Sochi in several days to compete for gold in the individual event.

Born in the city of Yekaterinburg in the Ural Mountains, Lipnitskaya first stood on the ice at four years old.
By the age of 10, she had won every tournament in her city, which meant it was time to make a decision: move to the capital and continue her career, or leave the sport.
When the question about moving to Moscow arose, her mother Daniela did not hesitate to abandon everything and leave with her daughter. It wasn't easy, but she believed Yulia would be able to show excellent results at various competitions. Yulia lived up to those expectations.
Lipnitskaya's success was followed by a silver medal at the senior level of the 2012 Russian Championships and gold at the 2012 Russian Junior Championships. It was there that she set her first record, achieving the ladies' World Junior record with a combined total of 187.05 points on the free skate.

Throughout the entire 2011–2012 season, Yulia had no falls on the ice in any her competitions.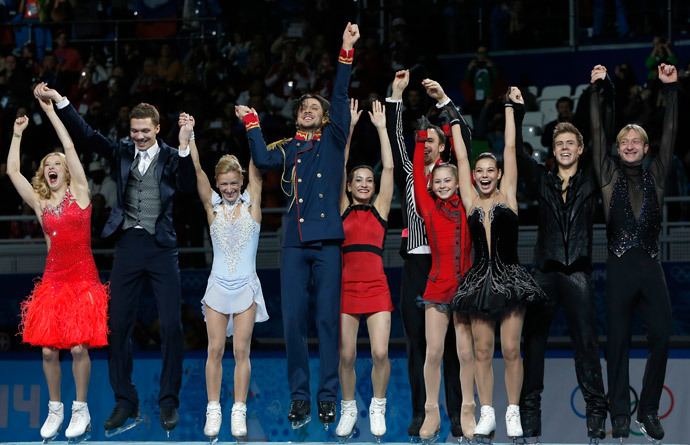 You can share this story on social media: