Sochi 2014: Invisible security is the best security, says Putin's chief of staff
Making the Sochi Olympics safe for visitors but not intrusive was a major achievement for Russian security officials, Sergey Ivanov, President Putin's chief of staff and a veteran security professional, told RT.
Ivanov spoke with RT's Anissa Naouai in Sochi about the hurdles the historic construction project had to overcome, the legacy that the Olympics will leave behind and the campaign of criticism launched at the Games by some western media.
RT: The Sochi Winter Games are well under way, and some say they might be the most criticized Games ever. Also, the most expensive in history. But joining me now to speak about how it's all going is Sergey Ivanov. He is the chief of staff of Vladimir Putin's administration. Thank you so much for finding time to join us.
Sergey Ivanov: Good evening.
RT: I first want to start with the anticipation: seven years, trying to get all of the building done. Was there a moment where you or the administration thought, "Uh-oh, we might not make it"?
SI: Not really. I visited Sochi several times during those seven years. Mainly I was at this sea cluster. Everything is done, and I think it's one of the most compact and easy-to-attend clusters for half of the sports being presented in the Olympics.
I haven't been for quite a long time at the mountain cluster in Krasnaya Polyana. Last time I was skiing there myself. But it was like an ordinary Russian village. Now, I couldn't recognize it when I came yesterday night. I had a feeling that I am in Switzerland, or in Austria, or somewhere in Central Europe, the Alpine republics. It was really good. And it is good. And I spoke to many international dignitaries, sportsmen, experts, and they all told me yesterday and today that the mountain cluster is just fine and it's one of the best they've ever seen. So, it's fine.
Of course, there are some minor flaws. But you can find minor flaws everywhere and every time. If, for example, you discuss the doorknob, or the door handle, which doesn't operate properly, that's one thing. If you discuss about the quality of roads, about security, about comfort of spectators, it's another story. And I think the latter, which I mentioned, is fine.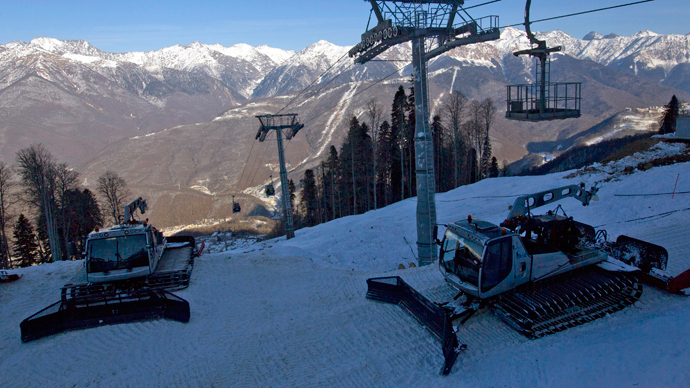 RT: We've been speaking to a lot of athletes and some spectators here at RT, and many of the foreign spectators are surprised that things are so nice, are surprised that it is so safe. They're shocked that Sochi is what it is. And there was a huge campaign, some might call it, leading up to these Olympics. How do you react to it?
SI: Personally, I reacted quite calmly.
RT: Did you expect it?
SI: Yes, I did. Because I think it's part of propaganda. That's it. You have to live with it. You have to stay calm, you have to stay cool, and you have to go on this long and winding road regardless of what some critics say. Then you will succeed. And I think we did.
RT: Like I said, many people are very pleased with the security. Do you think that Russia was able to find a balance between security and not having the security perimeter invade having a good time at these Olympics?
SI: OK, the Olympics are not yet over. But I think I'm rather an expert in security because 30 years of my life were devoted to security problems. The best security, I will tell you, is the security which you don't see. It's always the best. And I think [at] the Sochi Olympics [this] is just the case. The security is heavy, I have to confess. I have to agree with that. But you don't see it. That means it's a professional security.
RT: How did you manage to have security checks be so quick? I mean, I've never waited more than 30 seconds.
SI: The staff was trained. Even in languages. Maybe not fluent, but they speak reasonably good English. And besides, of course, they try themselves to be polite and efficient because they mentally understand that the impression about the Olympics partly depends on them.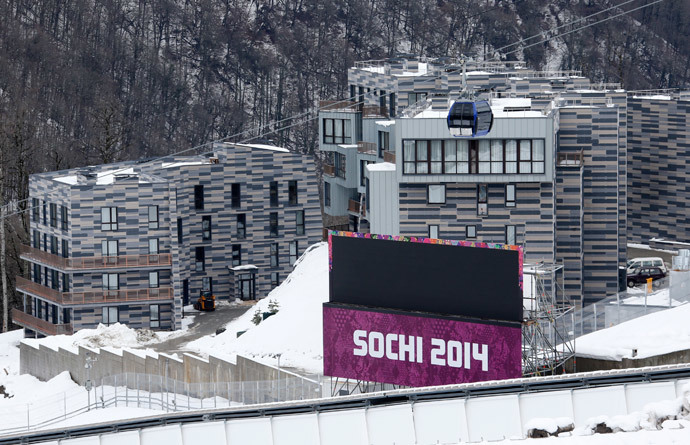 RT: And they smile a lot more.
SI: Yeah, why not?
RT: Team Russia showed not great results in [the 2010 Vancouver Winter Olympics]. They left quite unhappy. And the Russian team themselves were saying how unsatisfied they were with those results. How do you think being at home in Sochi will play during these Olympics? We just saw in the hockey game between the US and Russia how intense it can get. What will being the home team mean for Russia?
SI: Well, first of all, it's too early to say because it's only half the Olympics. We have still next week. Secondly, I remember a good Russian proverb, which, if you paraphrase it, means: You start slowly but you're very quick in reaching the finish line – which is a Russian tradition. I mean, mentally it's a Russian tradition.
And so far it was not very good from the point of gold medals, but today, this Saturday, we already have one in men's short track and right now the skeleton has started and there's a Russian man, Aleksandr Tretyakov, he is in the leading position, half a second ahead of the runner-up, which is a huge distance in skeleton. So there's a fair chance that we'll have two golds today and probably several next week. Let's hope. Including ice hockey.
[After Sergey Ivanov's interview with RT, Alexander Tretyakov duly won the gold medal in the skeleton event.]
RT: Including ice hockey.
SI: Of course, of course.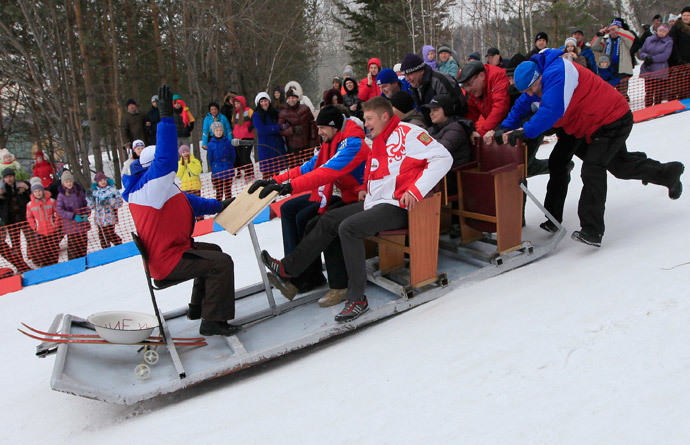 RT: If today was intense, the next week is going to be…
SI: It was a good game. I liked it. I'm still emotional because I came to you straight after the game. Well, it was an equal game. It was a tough game, it was tied. And those penalty shots, it's like lottery. You can never guess. And besides, the game didn't mean much from the final standings point of view.
RT: So Russia still has a very good chance?
SI: Yes.
RT: I'd like to look back to the 1980 Olympics if I can, because it was a very different time. It was 34 years ago, but from the West we've seen a lot of the same stereotypes 34 years on. Do you think, and are you hoping that Sochi could be the moment where some of those stereotypes are broken? For the people, for the ordinary people.
SI: OK. I remember the 1980 Moscow Olympics. I was working in security at the time.
RT: Really?
SI: Yes, I did. It was the Iron Curtain. It was a totally different country, if you compare with 2014. Totally different. And there might be a break of stereotypes, but mostly for the people who came here, who saw it with their own eyes, who were not sitting in their publishing offices and, I'm sorry, writing bullsh*t. So it depends.
RT: We'll have to see, but the future certainly for Sochi is open, because I was here in 2009, I didn't even recognize the city, like you said, Rosa Khutor is unrecognizable. What does that mean for the city of Sochi and what are you hoping will come out of this entirely new infrastructure that you have here?
SI: It's a good question. With the mountain cluster, it's more or less clear. It will be a high-level winter resort with people coming both for alpine skiing or sunbathing, which I saw with my own eyes today. And some people can be coming in summer for mountain walking or for fresh air, whatever. So I'm relatively calm with the future of the mountain cluster.
With this sea cluster, the low cluster, it's more difficult. There's Formula One starting this fall. Of course, the ice hockey arena will be used for different sorts of events, like, for example, figure skating revues, some commercial events, concerts, whatever. It's like using the arena. I know many arenas in the United States, like Staples Arena. Everyday it's either NHL or NBA or some concert, music concert, whatever. That's clear and that's easy. But some of the sports [facilities], we're still thinking about that. The president gave orders for experts to think and to offer several options of how to use [them] efficiently in the future.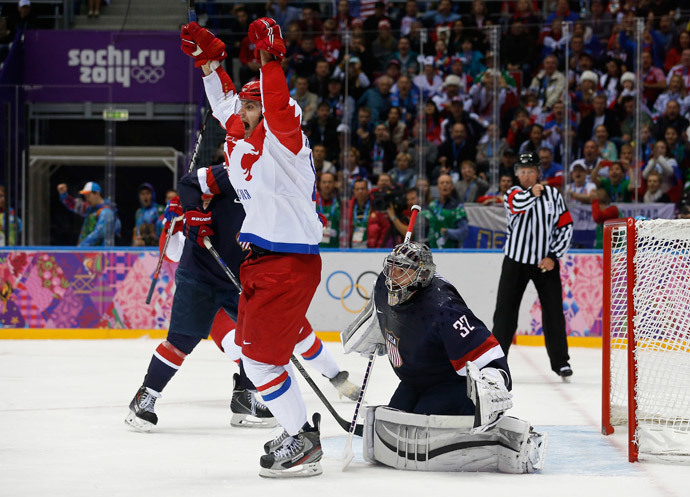 RT: I know you're clearly a hockey fan. But if you had a couple more events that you will not miss for anything at these Olympics, what would they be?
SI: Well, first of all, I have to confess, I'm a basketball fan. That's sport number one for me.
RT: That's your number one.
SI: It's incomparable with all other sports. But if we talk about the winter Olympics and winter sports, there are several: you are right, ice hockey, alpine skiing, cross-country skiing, biathlon. And I never watched slopestyle before. I watched it on television in Moscow, and I really liked it. It's a good sport for youngsters, it's very spectacular, it's good.
RT: And just finally I'd like to ask you a question completely unrelated to the Olympics.
SI: OK, shoot.
RT: If I could be a little more political, Ukraine. The protest is dying down, the political pressure on authorities is still unprecedented. It's become very clear of late, especially with leaked phone calls and other information, that the US and the EU not only are highly interested in Ukraine, but they're quite active in what's happening in Ukraine. How is Russia going to deal with this?
SI: As we've dealt with that from the very start. We hear a lot of noise accusing Russia of interfering into Ukrainian internal affairs. But I never heard a single fact proving this point. That's my point number one.
Point number two: Of course, we heard and saw and came to know tens or even hundreds of cases where we think was a clear interference into Ukrainian internal affairs by West European leaders and by American leaders, which in my view is totally inappropriate, to put it mildly. Because both sides publicly say that it's an internal Ukrainian affair, that there is a legitimate Ukrainian government and a legitimate Ukrainian president. Nobody disputes his authority, Yanukovich's authority. And still there's huge pressure obviously.
Well, we call it double standards, you might call it triple standards. But here are the facts. And I make my judgment only based on real facts, not propaganda. And maybe I will disappoint you, but I would never use the language which was used by some American state officials.
RT: Well, thank you so much for joining us here.
SI: You're welcome.
RT: Sergey Ivanov, chief of staff of Vladimir Putin's administration, joining us here on RT at Sochi 2014.
SI: Thank you.
You can share this story on social media: