'The Terminal' ending to Cuban's ferry limbo
Published time: 16 Jul, 2012 19:52
Edited time: 17 Jul, 2012 14:35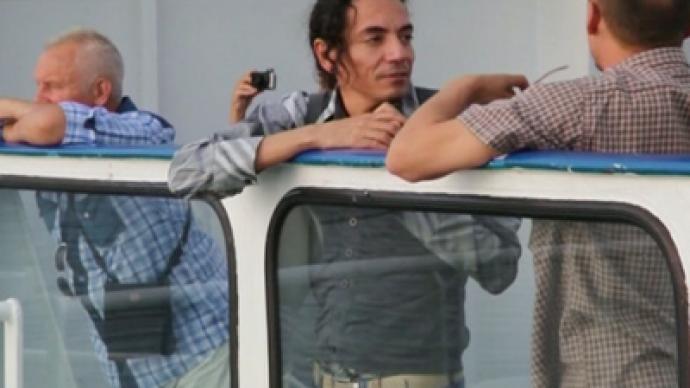 A Cuban architect has been forced to spend 47 days on a ferry, traveling between Saint Petersburg and Helsinki. The hapless man was caught in a legal gridlock that did not allow him to enter either Russia or Finland.
Luis-Vladimir Vega-Cespedes, a 41-year old Cuban, got caught in a predicament because of two minor violations of Russian migration legislation, while he was unable to enter Finland because his Schengen visa had expired.

The incredible situation, similar to the one depicted in the 2004 movie The Terminal, caught the attention of a Russian filmmaker Aleskey Zlobin, who decided to make a documentary about the stranded architect and his day-to-day life aboard the ferry that became his home.

"His friends from the coast are supporting him, paying for his mobile phone," Zlobin told Russia's Channel One. "The crew welcomed him very warmly; they feed him and gave him a class B cabin."
­
Luis Cespedes continued to work on his architecture projects via the Internet (courtesy Channel One)
The Cuban architect, in turn, helped the crew by working as a waiter in a bar. He lost no time in working on a new architecture project, thanks to the Internet.  
His wife, who is Russian, was able to see him from time to time as she bought return tickets and kept him company on board. His friends were also able to spend time with him in this way.
But, just like in the movie, every time he tried to leave the ferry to get back into Russia, border security denied him access. That was until Monday, when authorities finally decided to grant him access to his desired destination.
­
­
The legal nightmare behind the situation
The story of how Cespedes ended up in such a legal gridlock is quite complicated.

For starters, the Cuban national is actually a native of Russia, and was born in the city of Ivanovo. Many years of his life have been spent in the country. He went to college in Moscow, and has mostly been living in Saint Petersburg for the past ten years. He makes money by working as an architect, a Spanish tutor and a Latin dance teacher.

Cuban citizens do not require a visa to stay in Russia, but they are still limited to a 30-day stay period. For Cespedes, this meant that he had to leave the country every month only to come back in the next day.

However, last October Cespedes accidentally overstayed his legally allowed term, but took measures to mitigate his mistake and paid a fine. This February circumstances beyond his control caused him to violate the rule yet again. A storm prevented a ferry he got onto to go to Finland from leaving Saint Petersburg. Cespedes informed migration authorities of his own violation himself, but two breaches in 12 months meant that entry to Russia was barred for him.
­
Luis Cespedes was able to use his cellphone as friends paid for the service (courtesy Channel One)
The Federal Migration Administration, however, took note of the fact that he had a wife in Russia, and was applying for permanent residency status himself, and said he was still allowed to go in and out of Russia. In May, however, the Cuban architect was once again informed that his previous violations constituted an administrative felony, and entry to Russia was barred to him anew.
Cespedes then tried to resolve the matter in court, but the hearing date was set for June 7, meaning that he would once again have to quit the country so as to not overstay his term for yet a third time. The architect planned everything well: he would leave Russia for Helsinki on June 4, and would come back on June 6, just in time for the court hearing.
However, Russian border security prevented him from coming back to the country, saying they had not received the court order annulling the ban.
He was also unable to enter Finland, as his Schengen visa had expired. This, however, was something Cespedes clearly understood and had in mind when he was coming up with his itinerary.
­
While on board, Luis Cespedes worked as a waiter in the ferry's bar (courtesy Channel One)
"I signed a letter that I would not be entering the territory of Finland, as I do not have a Schengen visa, I know about that," he noted. "But I did not expect that I wouldn't be able to get off in Saint Petersburg."
On Monday, after the Russia media reported on the luckless fate of the Cuban national, border security finally decided to show some mercy and let the man in. Cespedes couldn't contain his delight.
"What I feel is a kind of happiness that cannot be described," he said. "Now I want to stay in Russia, of course, for everything to be legal. I want to do something useful for the people and to create a family and to live calmly, freely and happily."
The Cuban architect now faces another problem however. Cuban law stipulates that a citizen of Cuba must return to the country every 11 months or risk losing a number of rights. However, Cespedes currently doesn't have the means to buy a plane ticket to Cuba, which costs up to 40,000 roubles ($1,250).