Russia lashes out at UN military action in Cote d'Ivoire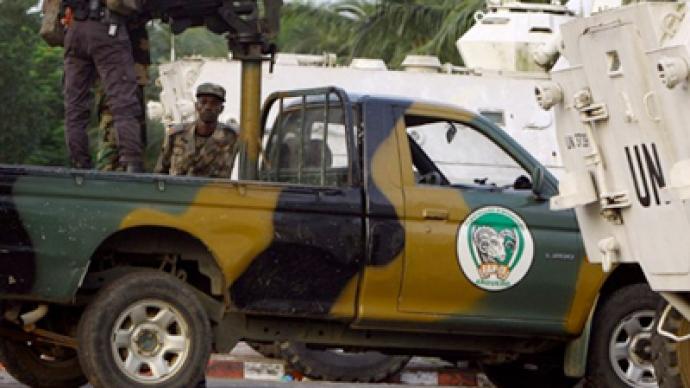 Forces loyal to the Ivorian internationally recognized leader Alassane Ouattara claim to have taken the presidential palace after UN and French forces launched a series of air strikes against incumbent president Laurent Gbagbo.
Tuesday's offensive included air attacks on three strategic military garrisons. It marked an unprecedented escalation in the UN and attached French contingent's efforts to oust Gbagbo.At the same time, the French government spokesman, Francois Baroin, has told channel France 2 TV that Paris is not waging war personally against Gbagbo.Gbagbo was negotiating his surrender, according to Alassane Ouattara's ambassador to France. The diplomat did not provide further details. Gbagbo's whereabouts are also currently unclear.According to recent Reuters' report, the French Foreign Minister has said negotiations with Laurent Gbagbo have failed.Reuters news agency quotes a Gbagbo spokesman as saying the incumbent president was negotiating the terms of his exit based on the recognition of Ouattara as president. The spokesman said the negotiations covered security guarantees for Gbagbo and his relatives.Meanwhile, France said on Tuesday it was aware of negotiations for the departure of Laurent Gbagbo from Cote d'Ivoire, according to Reuters. French Defense Minister Gerard Longuet said the crisis there could be resolved in a matter of hours, the agency reports.The incumbent president has been refusing to cede power ever since losing last November's election.Post-election violence has left hundreds dead, most of them Ouattara supporters, and has forced up to a million people to flee. Meanwhile, the Russian Foreign Minister Sergey Lavrov has said the UN and France had no right to take sides in the conflict."The UN peacekeepers and supporting French forces in Cote d'Ivoire have started military action, taking the side of Ouattara, carrying out air strikes on the positions held by supporters of Gbagbo. We are now looking into the legality of this situation, because the peacekeepers were authorized to remain neutral, nothing more. We've requested an emergency briefing in the UN Security Council. We will keep looking into the matter," Lavrov stressed.
John Laughland from the Institute for Democracy and Cooperation in Paris told RT the conflict in Cote d'Ivoire is the product of an ongoing crisis with a number of deep-seated causes, including the colonial past of the country and the recent two men rivalry. But the West, in this case France, by means of the UN has got into the habit of intervening systematically in other people's conflicts."What the Cote d'Ivoire intervention shows, because after all we are now in the situation where there's bloodshed and has been now for several weeks, is that the international intervention doesn't work," says Laughland."This is all shadow play. France's intervention is political and not humanitarian, it is intervening in order to bring to power a particular man," adds Laughland.
Moe Seager from the "Americans Against the War" group, an association of US activists living in France, believes that what we are witnessing in the conflict in Cote d'Ivoire shows that the United Nations "has more and more sided with western global managers." "The UN has been not as neutral as we would like the UN to be – I think we can expect to see that more as we are learning more about the leadership of the UN – more and more siding with the western powers for the purpose of global management."
You can share this story on social media: