UK's 10-figure bill for ousting Gaddafi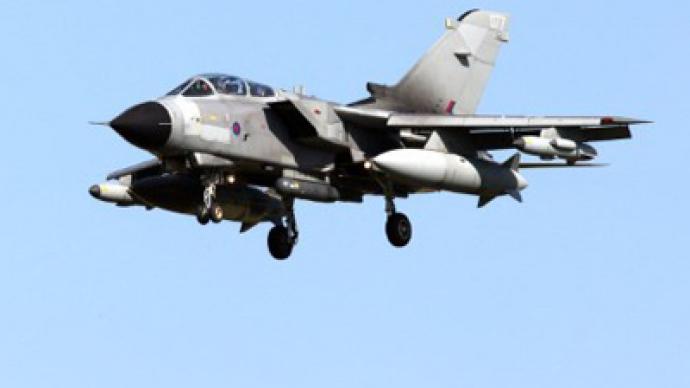 Governmental estimates of US's spending in the bombing campaign in Libya may have been one seventh of its actual cost, a military expert's calculation suggests. The worst case figure is US$2.7 billion, or even more.
Francis Tusa, editor of Defense Analysis, used data provided in answers to parliamentary questions and figures published by the Royal Air Force (RAF) since the operation in Libya started. He used two methods of calculation to estimate how much UK Ministry of Defense spent on bombing Muammar Gaddafi out of power.One method says the operation to the end of August took between $2.13 billion and $2.44 billion. The other one gives a potentially higher result – between $1.31 billion and $2.70 billion. The calculation did not include the cost of the continuing Libyan operation in September, or some other costs, like the transportation of hardware from the UK to the military base in Gioia del Colle, Italy.Earlier in June the government said it estimates overall cost of the campaign at $401 million. "Where there has been any doubt, I have underestimated rather than overestimated in my calculations," Tusa said, as cited by The Guardian newspaper. "With the number of missions the RAF has flown in the last fortnight, I am sure the cost of the campaign has gone up considerably."Earlier this month the MoD revealed that UK combat aircraft had flown more than 1,600 missions over Libya – around one fifth of all NATO strike sorties. The government never gave details about how they reached their estimates of the war effort cost."It is vital we have transparency on this, as the British people will want to know that our military strategy balances advanced kit and equipment with cost-effective decisions. Many have questioned whether the decisions made in the rushed defense review left our forces stretched and may have cost the country more in this unforeseen conflict. It is up to ministers to answer that charge," Jim Murphy, the shadow defense secretary, commented on the news.The Parliament's Defense Select Committee is currently doing an inquiry into operations in Libya. The first evidence session is scheduled on October 12.