Cold as Christmas: Emergency in Siberia, chilliest night in Moscow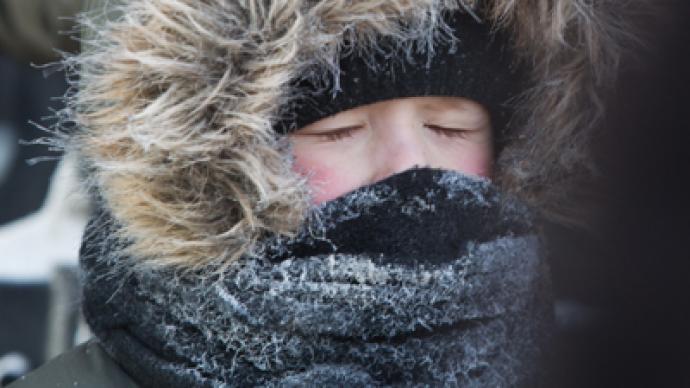 The coldest ever December has rolled through Russia causing the evacuation of hundreds of people in Siberia, where temperature hit below -50C, and plunging Moscow into its coldest night in the season. Will Christmas lift the frosty spell?
The cold weather that has Russia in its icy embrace has been causing all kinds of havoc. Flights and buses delayed and cancelled, many schools have been closed, and there have been power outages just when power is most needed. In the town of Kyshtym, the Urals, 14,000 people are still waiting for the central heating to be restored. On Sunday a break in the central pipe left residents anxiously watching the red line on their home thermometers plunging as temperatures outside slid to -24C (-11F). Just over the Urals, a state of emergency has been declared and over 2,800 people were evacuated from the village of Khovu-Aksy, the Republic of Tyva, temperatures there a lethal -38C (-36F). A helicopter was sent to pick up kids and women. Two days into the emergency, authorities are frantically repairing central heating pipes while most of the evacuees are staying with their relatives.
⛄⛄ Cold enough you think? -73F at Oymyakon, Russia, earlier this morning ❄❄

— ab (@RES911CUE) December 24, 2012
More than 90 Russians have died and more than 600 people have been taken to hospital due to the extremely hostile weather, which is 10 degrees below the December norm. The stubborn anticyclone, which sent thermometers sinking below -50 degrees Celsius (-58F) in some parts of Russia over the past ten days, will be pushed away by Christmas, meteorologists say. But this will hold true only for the European part of the country – Siberia and other regions to the east will still be violently shivering till the end of the week. Yakutia, which makes up the bigger part of Russia's Far East, is set face frosts down to -54C (-65F).
Back in Russia – The reindeer love the cold – it makes them go faster!

— XmasElf (@XmasElf) December 24, 2012
After surviving the coldest night of the season, Moscow might sigh with relief on Tuesday: in the wake of -25C (-13F), minus two (28F) for Tuesday sounds almost like the promise of summer. But Muscovites will still be looking enviously at Munich which is posting record highs for this time of the year with plus 20C (68F). Not all of Europe is enjoying warm sunny days though. In Ukraine, Poland, Lithuania and Czech Republic scores of people have died from exposure to the cold, with at least 57 victims reported in Ukraine alone.
You can share this story on social media: