St. Petersburg police shut down Cirque du Soleil parade (PHOTOS)
Published time: 8 May, 2013 13:22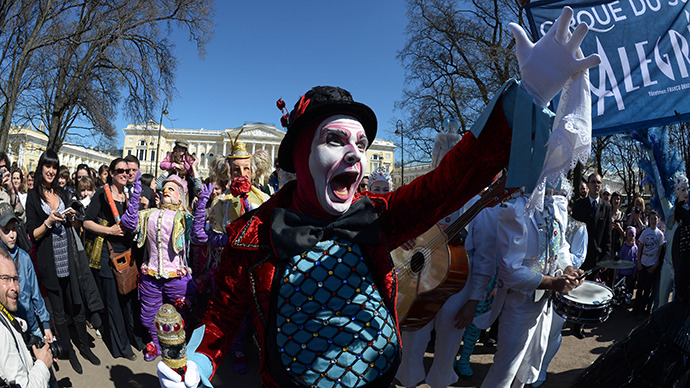 St. Petersburg police put an end to a mini-parade organized by Cirque du Soleil performers promoting their upcoming show. According to the organizers and the police, "too many people showed up."
Twenty actors and musicians of the famous Cirque du Soleil dressed in extravagant costumes marched through the center of Russia's second-biggest city the day before their 'Alegria' performance, scheduled to premiere on May 9th.
The parade was approved by city authorities, and 200 people were expected to attend. The actual crowd that gathered for the event turned out to be much bigger than anticipated.
"We cut the parade short because more people showed up than what we expected," Cirque du Soleil's PR manager said in a statement. "We already went two-thirds of our planned route. The decision to wrap up the parade was made together with the law enforcement officers to ensure security of both the audience, the actors and the passersby".

'Alegria' will run in St. Petersburg from May 9 to 18. 
Russia introduced tougher regulations on public gatherings last year in the wake of mass opposition rallies in Moscow.