Vatileaks, Holy Tweets, Santa Hats: Pope Benedict XVI in facts & photos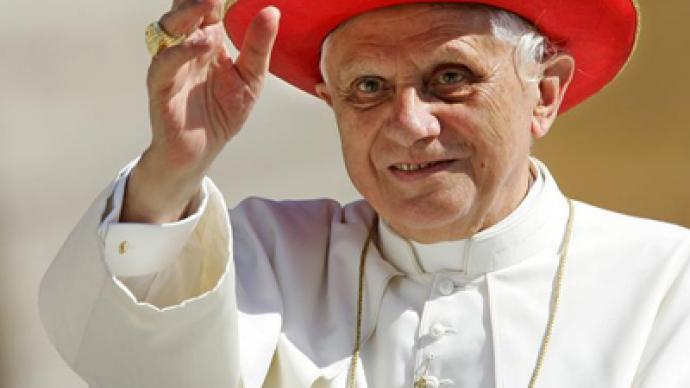 Pope Benedict's tenure as the leader of the Catholic Church lurched from one controversy to another as the words and deeds of the outspoken and traditionalist theologian were seized on by a soundbite-hungry 24-hour rolling news media.
– While the moral credentials of his predecessor John Paul II – who aided Jews during World War II and was praised for helping bring down Communism in Eastern Europe – were never in doubt, Joseph Ratzinger was dogged by persistent innuendo about his life during Nazi rule in Germany. Documents show only that the teenage Ratzinger was compulsorily recruited into the Hitler Youth, before being drafted into the Army as an anti-aircraft helper, from which he deserted. It is unlikely that the future Pontiff was a Nazi sympathizer, but these details, which only became public as Ratzinger was elected, did not furnish him with a backstory of moral courage.
– His past meant that for Benedict his every mention of World War II became a minefield. Many Jewish groups professed outrage at the Pope's vocal drive to canonize Pius XII, the wartime Pope who was accused of never publicly condemning the Holocaust. Benedict XVI also caught more flak in 2009, when he lifted the excommunication of English bishop Richard Williamson, a man who regularly called Jews "the enemies of Christ", and who has claimed that "200,000 to 300,000 Jews perished in Nazi concentration camps, but none of them in gas chambers".
– The Pope's relations with Muslims were also derailed early during his term. During a speech at a German university in 2006, Benedict XVI proclaimed "Show me exactly what is new about what Mohammed had to say. You will find his words only contain evil and inhuman ideas, like his order to spread the faith he preached by the sword." The speech was widely reported throughout the Muslim world. The Pope explained repeatedly that he was merely quoting a 14th century Byzantine emperor, but the damage was done.– In 2009, the man once nicknamed "God's Rottweiler" for his dogmatic defense of the Church's doctrine, gave ammunition to liberal critics when he said "The problem of AIDS cannot be solved by simply handing out contraceptives. On the contrary, this would make it worse." A year later, the Pope made worldwide headlines again when he said that contraception could be used to lower the risk of sexual disease where childbirth wasn't an issue, such as between a male prostitute and his client. On neither occasion did the Pope say anything principally new, but both times he was forced to clarify his statements in the face of a media backlash, showing a trademark inability to present his message on his own terms.
– Benedict's term was marked by a tidal wave of allegations of systematic child abuse in the priesthood, and just as damagingly, of cover-ups concerning that abuse by highly-placed officials within the church. A policy was seemingly in place, whereby uncovered pedophile priests would simply be transferred to a new parish, instead of being defrocked and reported to the police. Benedict himself became embroiled in the scandal when it was discovered that Father Peter Hullermann, a known child molester, was transferred to a new parish, under the watch of Ratzinger himself, who was at the time, the Archbishop of Munich (Hullermann continued to commit sexual crimes, and was eventually arrested). The single story overshadowed multiple unequivocal apologies and condemnations of abuse Benedict XVI made during his time at the Holy See.
– But it was not only media critics who took aim at the Papacy. The Pope was betrayed by his own butler (and a coalition of powerful Vatican insiders), during the Vatileaks scandal that dragged through the entirety of 2012. A series of leaked personal documents exposed the Holy See as a vipers' nest of corruption, rivalry and intrigue. The Pope himself was presented as a passive onlooker, incapable of taking charge as crime prospered outside his door. Instead of facing up to the allegations, the Vatican fired several highly-placed officials and arrested the butler, Paolo Gabriele, before sentencing him to a prison term in an internal trial conducted by Vatican priests. Benedict subsequently pardoned Gabriele, but the Italian police and European regulators remain interested in suspected money-laundering and financial irregularities at the Vatican Bank.– Despite the troubles that beset his term, the personal integrity of Pope Benedict during his tenure was unquestionable. That gave credence to a series of speeches on the dangers of materialism that he gave in the midst of the economic crisis in 2008 and 2009. Many traditional Catholics, unbothered by the relentlessly negative media coverage, also praised his "back-to-basics" approach to religious teaching, rooted in the Bible.Although always portrayed as a serious-minded intellectual, Benedict XVI also showed a different side during his time at the helm of the Holy See:
– Compared to his relatively dressed-down predecessor, Benedict XVI favored an ostentatious selection of colorful vestments, outsized mitres and diamond-studded crucifixes. Among the memorable outfits are a combination of a blood-red ermine-lined velvet cape and "Santa hat" (actually a camauro, worn by pontiffs since the 1100s) that had not been seen in public in half a century. The Pope, each of whose garments had a symbolic significance, did not eschew modern Italian designers either, often sporting a pair of designer Serengeti sunglasses. The Vatican did deny the widely-reported story that the Pope's loafers were made by Prada (they were actually made by his own personal cobbler).
– The Pope also ordered celebrity perfume maker Silvana Casoli to create a personal eau de cologne for him last year. Scented with "hints of lime, verbena and grass", according to Casoli, the perfume reflected Benedict's "love of the forests and animals in his native Bavaria, as well as peace and tranquility."
– Performing in front of the Pontiff is a time-honored tradition, but eyebrows were raised when a troupe of acrobats tore off their shirts and executed a series of daring holds and lifts in front of an attentive Benedict during a circus performance in 2010. The video became an instant internet hit.
– Tired of constantly being on the defensive, the Vatican has revamped its media strategy, hiring Greg Burke, a Fox News correspondent, as a senior advisor. The result, a press call in December, in which the Pontiff typed in his first ever message on Twitter. He currently has more than 1.5 million followers. Sample tweet: "We pray that the Church, despite her shortcomings, may be increasingly recognizable as Christ's dwelling place".
Igor Ogorodnev, RT
You can share this story on social media: