Chinese workers trapped in land of broken promises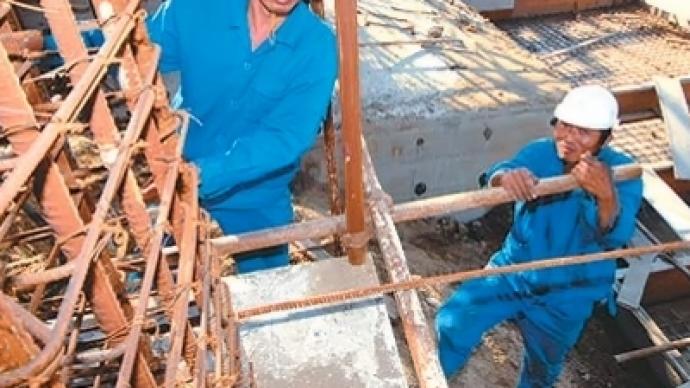 Israel's rising need for labor has made it a target for foreign workers from as far as China. But for hundreds of people, their new life is not living up to its pledge, with many ending up as illegal immigrants who are kept on the breadline.
In China, Mr. Li was a big shot who owned a textile business that brought in thousands of dollars a year.But he gave it up on the advice of a friend and forked out a small fortune to travel to Israel hoping that the Promised Land would fill his pockets."It was not worth it for me because four years on I have only managed to save US$12,000," says Li, now a common construction worker. "I would have made more than that in china in those years."For many years Israel welcomed Chinese laborers with open arms.They and other foreign workers provided a much needed work force, replacing Palestinians who were finding it more and more difficult to work in Israel amid a deteriorating security situation.Today, most of the nearly 11,000 Chinese laborers in Israel work in construction.Many are illegal and were lured there by the big promises of fly-by-night employment agencies.The employment agencies allegedly keep at least 70 per cent of the fee they charge for visa processing for foreign workers.The Israeli government says it can do nothing to stop these companies purposely set up to defraud unsuspecting foreign workers.Mr. Zu paid $31,000 for a five-year work visa, but it turned out to be a fake. After a year he found himself illegal in the country. He now works 14-hour shifts as a construction worker, pockets less than half the Israeli average salary, and is always afraid of being picked up by the authorities."In this caravan we do not even have air conditioning," says Zu. "We cannot sleep and in some of these small rooms there are four of us in there. The conditions are bad."Many of the employment agencies have since closed down. But the money people borrowed to pay their fees has made returning home to China not an option."I've heard it many times from people who told me "if I go back now, I can't go back home," says Nilly Gorin, specialist of the migrant workers' helpline. "Because they lose their house, they lose their parents' house. They owe money to so many people they just can't show their faces. And I know of people who went back to china and didn't return to their home town."Mai also got caught. She had only just stepped off the plane when she was fired for not speaking English or Hebrew. She is not only worried about the money she owes back home, she also fears for the future of her son who was born in Israel and knows no other life."He doesn't like speaking Chinese. Although he understands Chinese, he speaks Hebrew," she says. "All his friends are here and if he has to be deported he won't see them."In recent years the Israeli government has been trying to stop the flow of foreign workers.It wants them, and it does not want them, leaving many caught in the cracks.
You can share this story on social media: