US immigration reform dead before it began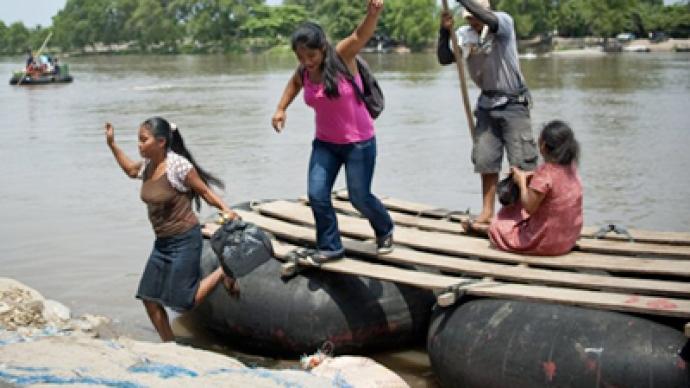 While US President Barack Obama campaigned on comprehensive immigration reforms it is likely he will never see them. There seems to be little political appetite for such policy changes as Republicans in Congress scoff at the idea.
Obama recently spoke with a group of elected officials and immigration experts, but little is likely to come of the discussions. Any bill that attempts to feels like amnesty or mass legalization is out of the question for Republicans – no matter what. Comprehensive reforms of that nature are dead on arrival to most US conservatives. "[A path to citizenship is] what has doomed all immigration legislation in the last two administrations," said California Republican Congressman Dan Lungren during a US House hearing on immigrant workers regarding a proposed bill to establish new via rules for agricultural immigrant workers. "It's not going to pass."Why is the bill doomed to fail? "Because it has, frankly … a path to citizenship," he explained. Republicans argue paths to citizenship are essentially offering amnesty, something they refuse to do. "I think most members of Congress and most Americans don't want to reward lawbreakers and don't want to give them amnesty," said Republicans Congressman Lamar Smith from Texas.Smith argues it is more that Republicans however, even Democrats oppose amnesty he said. "Remember, in the last Congress, the Democrats had large majorities and weren't able to pass the comprehensive amnesty bill," he remarked. "I don't think that bipartisan resistance to mass amnesty has abated."Looking at last year's failure of the DREAM Act highlights this bipartisan rejection of comprehensive reform. The bill, aimed at offering the children of immigrants a path to citizenship by way of college completion and/or military service was rejected by the Congress.In Obama's recent meeting with experts and officials, he promised to seek a bipartisan and community approach to immigration reforms."The President asked the group to commit to moving forward to keep the debate about this issue alive, to keep it alive in the sense that it can get before Congress, where the ultimate resolution of it will have to be obtained," Bill Bratton, the former police chief in Los Angeles and New York City told AP. "The idea being to go out into our various communities and to speak about the issue."A statement from the White House added, "The President urged meeting participants to take a public and active role to lead a constructive and civil debate on the need to fix the broken immigration system. He stressed that in order to tackle the issue successfully they must bring the debate to communities around the country and involve many sectors of American society in insisting that Congress act to create a system that meets our nation's needs for the 21st century and that upholds America's history as a nation of laws and a nation of immigrants."Many feel the President should however focus on border security and American jobs over mere immigration rules and reform."There are 7 million illegal workers in this country," Smith said. "I'd like to see those jobs go to American citizens and legal workers."He argued that border security must take priority to ensure American quality of life before citizenship programs can be adequately addressed. "It's premature to talk about anything other than enforcing the law and protecting jobs for American citizens and legal immigrants," Smith commented.With many Americans focused on jobs and security and a majority of politicians unwilling to grant paths to citizenship or amnesty, Obama's immigration plans appear to be dead on arrival.
You can share this story on social media: