US Defense Secretary seeks to convince Chinese of American integrity in cyber-space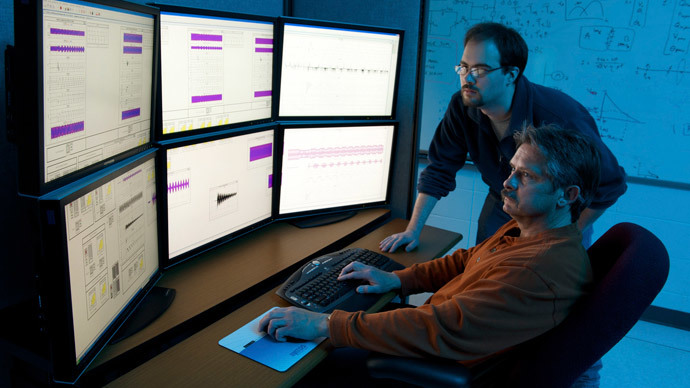 The US Defense Secretary is in China building bridges following the recent scandal of the NSA staging cyber-attacks against the Chinese government and business. Beijing expects Washington to set an example of 'intelligence restraint' in cyber space.
According to The New York Times, ahead of Chuck Hagel's Beijing visit, the Obama administration quietly held an "extraordinary briefing" for the Chinese military leadership regarding America's cyber warfare doctrine.
Chuck Hagel is expected to alleviate Chinese worries in his address to the People's Liberation Army (PLA) National Defense University on Thursday.
The US Defense Secretary has already voiced America's position on national cyber defense ahead of the China visit, but US cyber security plans have raised serious concerns in the international community.
On one hand, speaking at the retirement ceremony for CUBERCOM's former head, General Keith Alexander, on March 28, Chuck Hagel made a remarkable statement: "The United States does not seek to militarize cyberspace."
"The Department of Defense will maintain an approach of restraint to any cyber operations outside the US Government networks," Hagel said, urging other nations "to do the same."
On the other hand, in the very same speech, Chuck Hagel announced that the US is going to triple the number of its cyber force within the nearest two years. The US will have as many as 6,000 cyber security personnel by 2016 to bolster US national security.
"Cyber force will remain one of DoD's top priorities," Hagel said.
Ambiguous US Defense Department statements rendered Beijing dubious and cautious in its remarks.
Chinese Foreign Ministry spokesman, Hong Lei, said China shares the opinion that the internet should be used for promoting prosperity, so Beijing is closely following Hagel's statements.
"Maintaining peace on the internet and avoiding cyber-wars accords with the interests of both China and the United States," Hong said at a daily news briefing on March 31.
The spokesman also called on Washington to set an example in deescalating the tensions in cyber space.
"We hope that the United States can earnestly turn its comments into policy and action and work with China to create a peaceful, open, safe and cooperative space online," Hong said.
Admiral Mike Rogers, who succeeded General Keith Alexander as the head of America's cyber command, got to work on April 2 and worded the new hawkish layout for CYBERCOM.
During recent Senate hearings, Admiral Rogers urged "proactive" cyber operations, so that cyber units could "leverage the newest technology to identify our attackers before and during an attack – not just after."
This statement fits perfectly with Chuck Hagel's belief that the US must "shape a modern, cutting edge military that outmatches the most advanced adversaries" to stay ahead and to protect "our country, our economy, our interests."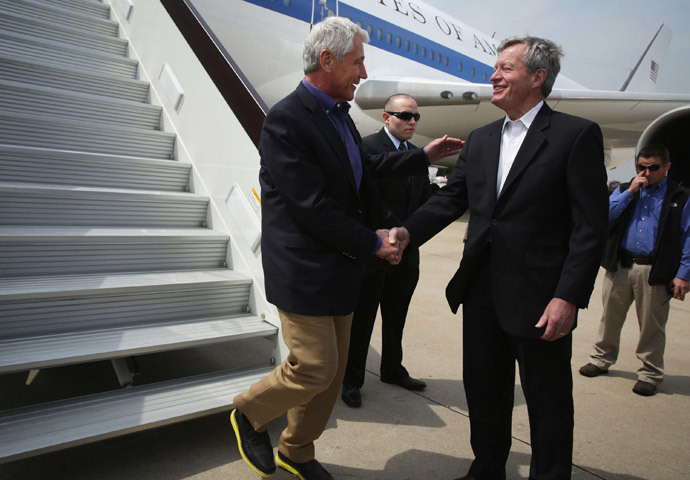 The US Defense Secretary started his Asian tour from Japan, where the day before arriving in China he talked about China being a "great power" that should be aware that "with this power comes new and wider responsibilities as to how you use that power."
"Coercion and intimidation is a deadly thing," Hagel told the Japanese Defense Ministry in regard to Chinese territorial claims towards its neighbors, including Japan.
"You cannot go around the world and redefine boundaries and violate territorial integrity and sovereignty of nations by force, coercion or intimidation, whether it's small islands in the Pacific or large nations in Europe," Hagel added, obviously bringing into spotlight the territorial dispute between China and Japan over the Diaoyu/ Senkaku islands and the recent reunion of Crimea with Russia.
Having clearly outlined Washington's tough position towards global cyber intelligence and Beijing's territorial claims, the US Defense Secretary is on a three-day trip to China, where he will visit several People's Liberation Army units, including China's first aircraft carrier, Liaoning, built in the 1980s for the Soviet navy and refurbished by Chinese engineers over the last years.
Cyber scandal that rocked US-China relations
The new portion of revelations from the former NSA contractor Edward Snowden, published by Der Spiegel and The New York Times, has exposed the US secret service's great interest in obtaining data from China).
It has been revealed that America's NSA has multiple targets in the world's second largest economy, among them the Chinese Trade Ministry, national banks, leading telecommunications companies and the country's top officials, like former Chinese President Hu Jintao, but in particular the NSA spied on China's telecom giant Huawei.
The revelations had the US scrambling for excuses.
The NSA only engages "valid foreign intelligence targets in response to intelligence requirements," maintained the agency's spokeswoman, Vanee Vines, who also added on behalf of the NSA that "we do not use foreign intelligence capabilities to steal the trade secrets of foreign companies on behalf of, or give intelligence we collect to US companies to enhance their international competitiveness, or increase their bottom line," Vines said in a statement emailed to the AP.
Another NSA spokeswoman, Caitlin Hayden, commented on the issue: "Our intelligence activities are focused on the national security needs of our country."
US First Lady Michelle Obama, who was visiting China when the scandal emerged, said that open access to online information is a "universal right."
You can share this story on social media: