Espionage fiasco: 'Top Chinese firms should be banned from US' – report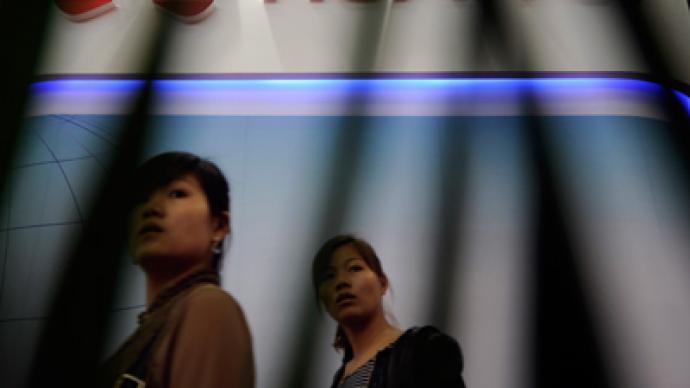 US firms should stay away from doing business with two Chinese telecom giants due to a national security threat they pose, states a draft congressional report. It recommends barring the companies from the US market, yet fails to detail evidence.
The House Intelligence Committee in its report to be released Monday urges US regulators to ban all merges and acquisitions in US by Huawei Technologies Co Ltd and ZTE Corp, which are among global suppliers of telecommunications gear and mobile phones. Due to espionage risks, the report recommends not to use any of the tech components from the two firms in US government computer systems. "China has the means, opportunity, and motive to use telecommunications companies for malicious purposes," it states, according to the Wall Street Journal.The report is a result of an almost yearlong probe, which began in November 2011. On Monday, before the release of the report, a Chinese Foreign Ministry spokesperson asked the US to put aside prejudices and continue to promote mutual trade and investment. "We hope the US will do more to benefit the interests of the two countries, not the opposite," said Hong Lei.Panel's conclusion will most definitely affect Huawei and ZTE's ambitions to expand their business in US."The investigation concludes that the risks associated with Huawei's and ZTE's provision of equipment to US critical infrastructure could undermine core US national-security interests," the report says.Huawei is employee-owned and the second-biggest maker of routers, switches and telecoms equipment by revenue in the world after Sweden's Ericsson, while ZTE ranks fifth. The 52-page report is not classified and does not include any evidence that either of the two companies' equipment had been used for spying. It only states that some US companies "have experienced odd or alerting incidents" involving Huawei or ZTE equipment, without providing any details. The report does have a classified annex, which reportedly includes information that adds weight to the allegations.One of the biggest concerns the committee has is that the two companies may be forced to comply with Chinese government requests to access their system in the future. Report's allegationsThe report made its conclusions based on the information it received from industry experts and current and former Huawei employees, who suggested that Huawei, in particular, may be in violation of US laws.The report includes allegations of immigration violations, bribery and corruption, and Huawei's practices of using pirated software in its US facilities.The committee has no real authority to set out rulings against violations of federal law and will be transferring its findings to the Justice Department and the Department of Homeland Security. The report concludes that the two firms have failed to provide satisfactory answers about their relationship to the Chinese government and details about their operations in US, such as corporate structure, history, financial arrangements and management."The committee finds that the companies failed to provide evidence that would satisfy any fair and full investigation. Although this alone does not prove wrongdoing, it factors into the committee's conclusions," it states.Both of the Chinese firms have fully cooperated with the probe. However, Huawei executive William Plummer complained that the amount of information demanded of the firms was unreasonable and that no responsible company would be able to provide as much as was requested, according to Reuters.These recommendations will directly impact US domestic employment situation since Huawei employs 1,700 people in US alone and business is expanding and revenues rose from $765 million in 2010 to $1.3 billion in 2011. ZTE has also enjoyed stable growth in the US until the FBI began its investigation into allegations that the firm sold banned US Cisco computer gear to Iran. In response to the investigation, Cisco has ended its sales partnership with ZTE after it conducted its own internal investigation. Now, the Intelligence Committee stated that ZTE failed to provide any documents in relation to its activities in Iran, citing China's state secrecy laws for limiting information that could be shared, which added to the committee's concerns over espionage. Espionage crazeUS fears of domestic espionage from foreign investors are always high, especially when it comes to China. Just last week President Obama had ordered Chinese company Ralls Corporation to abandon an American investment by blocking a wind farm develop in Oregon, citing its proximity to a naval base that tests drones. In response, the company is now suing Obama, claiming his decision was unconstitutional.
You can share this story on social media: