China opens doors of secret military base to journalists
China's military gave a rare display of its military prowess to journalists on Monday to help dispel fear about the country's intentions and provide a sense of openness over Chinese strategy the day before Japan's vice FM visits to negotiate territory.
China displayed a range of its weaponry, including anti-aircraft cannons dating back to the 1960s. Similar, modern counterparts were also showcased, as soldiers chatted to journalists about why they joined the military.

Military commander Chen Xifeng, who is in charge of the base in central-eastern Lintong, was tasked with speaking to representatives of the press. "The Chinese people and the People's Liberation Army are peace loving," he told a Reuters reporter while shaking hands and smiling.

The base is of key importance as it is part of one of seven territories which encompasses the far western region of Xinjiang, which borders Pakistan and central Asia. It is the first base outside of Beijing to be opened up to journalists.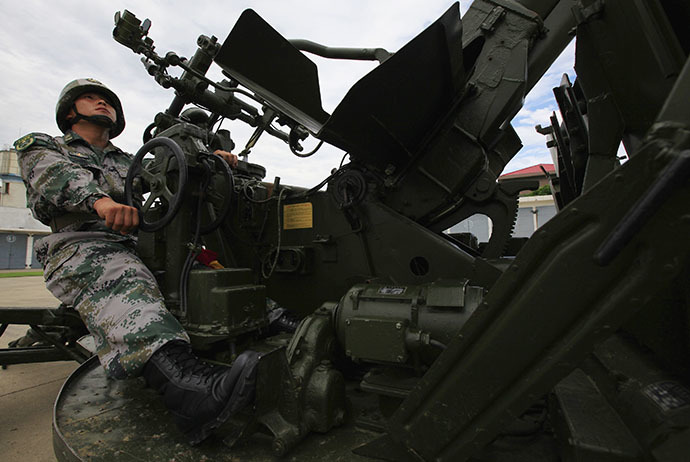 The commander described other weaponry which wasn't available for viewing, including a detachment of HQ-7B short-range anti-aircraft missiles.

Government funds being channeled into the People's Liberation Army will rise 10.7 per cent to 740.6 billion yuan ($120 billion) this year. However, analysts say this figure is not reflective of the government's true expenditure.

While using the opportunity to inform reporters of the extent of China's military capabilities and to declare a commitment to increased transparency, the commander also confirmed the existence of tensions with other Asian countries. "China does have territorial disputes with some neighbors but the government and military are quite restrained in dealing with them," he said. 
On Tuesday, Japan's vice foreign minister, Akitaka Saiki, is to arrive on Chinese shores. He hopes to resolve ongoing territorial disputes surrounding an island chain in the East China Sea, as well as put an end to a scuffle surrounding two archipelagos in the South China Sea.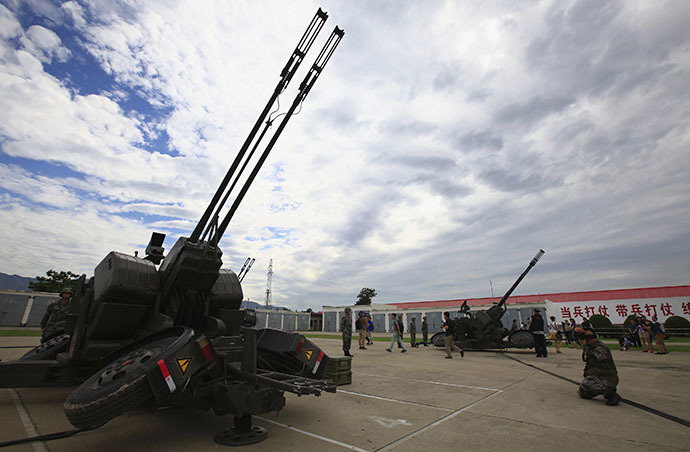 Japan's newly re-elected Prime Minister Shinzo Abe called for the meeting between the two countries' leaders last Friday. China has unsettled both Asia and the US with its concerted efforts for territorial claims in the region to be internationally recognized.

China was reluctant to discuss the territorial issues on specific terms. "We can talk about all these things back in Beijing," the Chinese military's official spokesman, Geng Yansheng, told reporters, when asked about tensions with Japan over a group of disputed islands in the East China Sea.

"This visit shows how open we are...but this openness is a gradual process," Geng said. "We will continue to do this and open up more bases for visits."

The precise timings are unconfirmed. "There is no immediate schedule for a leadership summit," Japan's Chief Cabinet Secretary Yoshihide Suga told a news conference on Monday.

China's Foreign Ministry said in a Friday statement to Reuters that it was in Japan's interests to "stop using empty slogans about so-called dialogue to gloss over disagreements." China would like Japan to acknowledge the existence of a formal territorial disagreement, which Tokyo has rejected on the grounds that recognizing China's claim would undermine its own.

You can share this story on social media: