Pollution level China: 96 percent of cities fail environmental probes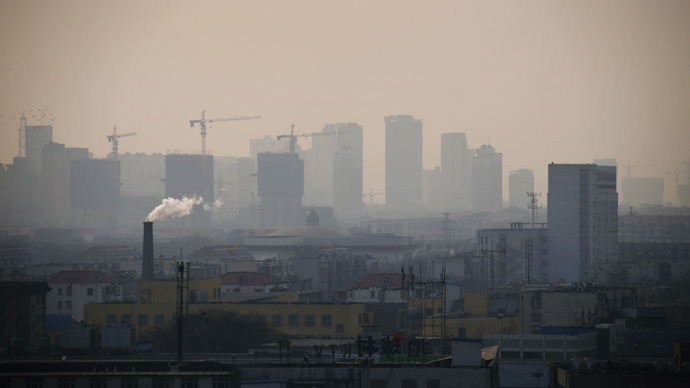 The vast majority of Chinese cities monitored for pollution fail to meet Beijing-set standards, China's vice-minister of environmental protection says. China is mulling declaring "war" on the pollution resulting from the country's rapid economic growth.
Seventy-one out of 74 cities monitored in China over 2013 did not meet state environmental standards with various degrees of problems, vice-minister of the Chinese Environmental Protection Ministry, Wu Xiaoqing, has announced.

Speaking on the sidelines of the annual parliament session in Beijing, Wu admitted that China was suffering the consequences of rapid industrialization.

"When we were chasing GDP growth, we were also paying the price in pollution, and this price is heavy, in fact massive," the Chinese official told reporters, Reuters quotes.

Of the cities inspected, only Haikou in the island province of Hainan, the Tibetan capital Lhasa and the coastal resort city of Zhoushan met standards. A total of 3.7 million people live in those cities combined. The others have been struggling to cope with such problems as urban smog, polluted water supplies and industrial contamination of land, causing growing public concern.

According to Wu, the country's pollution problems can only be solved by fundamental changes in its resource-intensive economy. For that, "upgrading" and diversifying Chinese economy have been included in the government's agenda.

Beijing invested more than 300 billion yuan ($49 billion) on environmental protection in 2013, which was a 14 percent increase from 2012. This year the funding is likely to increase on a similar scale, Wu said.

China's Premier Li Keqiang on Wednesday vowed to the parliament that the country would "declare war on pollution" in the same way it declared war on poverty, Reuters reports. The parliament has been drafting changes to the country's 1989 environmental protection law that would raise the fines for violating environmental standards and ensure that polluters pay.

According to Wu, three of the main Chinese industrial regions, Beijing, Hebei and Tianjin, produce 30 percent of China's pollution while occupying just 8 percent of the country's territory. The average emissions there are five times higher than anywhere else in China.

What Beijing is eyeing as immediate measures has, however, been criticized as simply shifting the pollution burden to other, less polluted regions.

"China's central and western regions are rich in coal, and their environmental capacity is better than the Beijing-Hebei-Tianjin region, so we are encouraging them to develop coal-to-gas and to replace coal burning in eastern regions," Wu said.

The three regions in question are producing 55 percent of China's steel, 40 percent of its cement and 52 percent of its gasoline and diesel.

The overwhelming level of pollution caused by this production has prompted scientists to compare the smog-covered Chinese capital's environment to a "nuclear winter" and prompted local authorities to start developing special anti-smog drones and artificial rain.

The problem, however, is not tied to the central and western regions only. A man from China's northern Hebei province recently attempted to sue his home city after a law prohibiting motorists from driving every day was enforced due to thick haze.

Moreover, pollution has started affecting the country's neighbors. Ministers from China, Japan and South Korea have agreed to meet in May to discuss ways to mitigate the rising levels of pollution in the region, as China is being criticized for its excessive use of coal-burning power stations.
You can share this story on social media: