Schools close in fog as China eyes artificial rain to fight pollution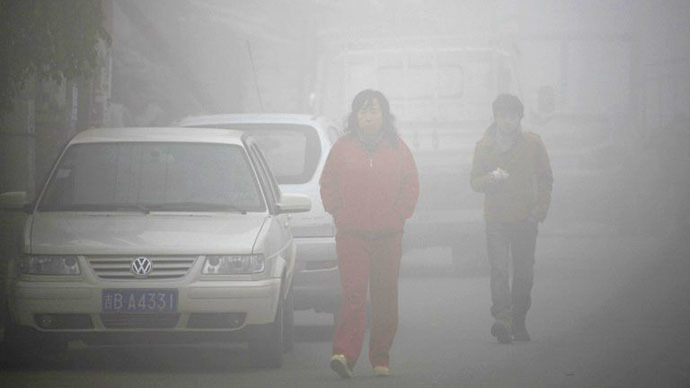 The Chinese government is contemplating the practice of 'cloud seeding' to disperse the county's notorious smog, as schools have been forced to close or suspend outdoor activities in two eastern Chinese cities over hostile breathing conditions.
A 'red alert' for poor-quality air was raised by the government Thursday in Nanjing, the capital of the eastern Jiangsu province. Nanjing secondary and secondary classes were cancelled, while Qingdao, a coastal city in Shandong province – located just north of Nanjing – banned outdoor activities, according to Xinhua.

Qingdao recorded PM2.5 Air Quality Index levels of over 300, while Nanjing saw a reading of 354 on Wednesday, according to local news portal news.longhoo.net.

PM2.5 stands for Particulate Matter, 2.5 micrometers or less, which are small enough to penetrate the smallest airways. Levels above 300 are deemed to be hazardous by the world Health Organization.

Qingdao has cracked down on the burning of both leaves and rubbish as well as vehicle usage limits, and Nanjing has said that it will assert control over industrial sources of pollutants.

While both cities predicted that the high levels of pollution would continue, a proposal has been put forward to create rain to clear the country's notorious smog.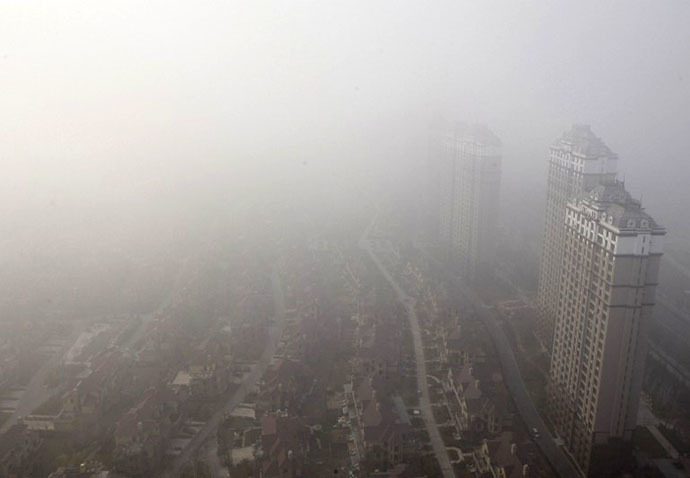 According to a document released by the China Meteorological Administration, from 2015, local weather authorities will be permitted to use cloud seeding – the dispersal of substances into the air to change its composition – to disperse the country's smog.
The process of 'cloud seeding' involves firing rockets containing silver iodide into clouds, instigating the formation of ice crystals from super-cooled liquids. Particles then fall as rain or snow, with the artificially induced precipitation clearing the pollution and smog below, if all goes according to plan.
While there have been programs in place since the 1950s to generate artificial rain, the idea is gaining new acceptance.
"There is indeed something to be said in favor of cloud seeding, provided it is very targeted,"
Roger Stone, a climate scientist from the University of Southern Queensland in Toowoomba, Australia, told The New Scientist on Thursday.
China has previously employed the practice to disperse bad weather on important public holidays, for example, to ensure that there would be clear skies for the opening of the Beijing Olympics in 2008.
Some commentators have expressed doubt about the proposals, with Hong Yanchao, the deputy director of the National Consultation and Evaluation Committee for Weather Modification, telling Chinadialogue that certain weather conditions must be met before 'artificial rainfall' can be induced.
"Usually smog weather does not meet these conditions,"
he said.
Cloud seeding comes as a part of the government's scheme to spend 1.7 trillion yuan ($277 billion) solving the air pollution problem. The plans were announced in July this year, with the deputy mayor of Beijing also announcing a target to reduce particulate concentrations by 25 percent over the course of the next five years.
You can share this story on social media: