​China to test cutting-edge anti-smog drone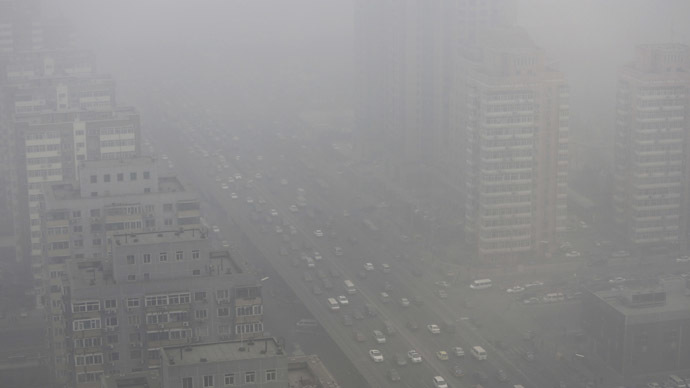 Government agencies in China are set to test a new aerial drone to tackle their overwhelming air pollution. The device is set to spray chemicals that freeze pollutants and make them fall to the ground.
The tests are to be led by the China Meteorological Administration and carried out later this month at airports and ports, the Xinhua state news agency reported. The manufacturer, the Aviation Industry Corporation of China, has already carried out about 100 hours of test flights, Ta Kung Pao, a local media outlet, reported.
The drone has a paragliding wing, allowing the vehicle to carry three times more weight than the fixed-wing version.
700 kilograms of smog-clearing chemicals is the amount of anti-pollution substances the drone can carry, according to the chief executive of the Aviation Industry Corporation of China, Ma Yongsheng.
Also, Ma Yongsheng stressed that the vehicle was easy to control and land, making it suitable to use at airports and ports. Plus, the official said that the drone was not expensive to make and maintain.
Air pollution in parts of China a week ago was so extreme it could lead to conditions similar to a "nuclear winter," scientists said.
In mid-January, highways were closed in the Chinese capital as the city was blanketed by thick smog engulfing skyscrapers. Pollution readings jumped to threatening levels of more than two dozen times the level considered safe.
Currently, the United States embassy, which has set up its own air-quality-monitoring system and regularly posts readings on a Twitter feed, said Beijing had a "moderate" PM2.5 reading of 82 micrograms per cubic meter at 9 am. PM2.5 is one of the most dangerous substances for the human organism. The Beijing Municipal Environmental Monitoring Center posted on its Sina Weibo account that the capital recorded a "good" PM2.5 reading of 10 micrograms to 31 micrograms per cubic meter at 7am.
The World Health Organization recommends a PM2.5 standard of 25 micrograms per cubic meter over a 24-hour period.
Residents on the mainland have called on the authorities to deal with the air pollution problem, with some of them buying second homes in Sanya, on Hainan, which has some of the cleanest air, according to a Bloomberg report.
You can share this story on social media: