Half-ton fragment of Russian meteorite located on lakebed
A date stone-shaped fragment of the famous Chelyabinsk meteorite weighting several hundred kilograms was located on the bed of a lake in the Urals. Divers are planning to start recovery of the celestial object later this week.
The fragment of the meteorite, which exploded high over Russia's Chelyabinsk region in February, injuring more than 1,600 people and causing plenty of damage and much excitement on the ground, was discovered with sonar survey of Lake Chebarkul.
The chunk is covered by about 2.5 meters of sediments and is estimated to be 30 to 100cm long while weighing about 600kg. Its presence in the location was already known, since it made a six-meter hole in the ice during impact. But the new study offered a more precise assessment than the previous one made with magnetic imaging.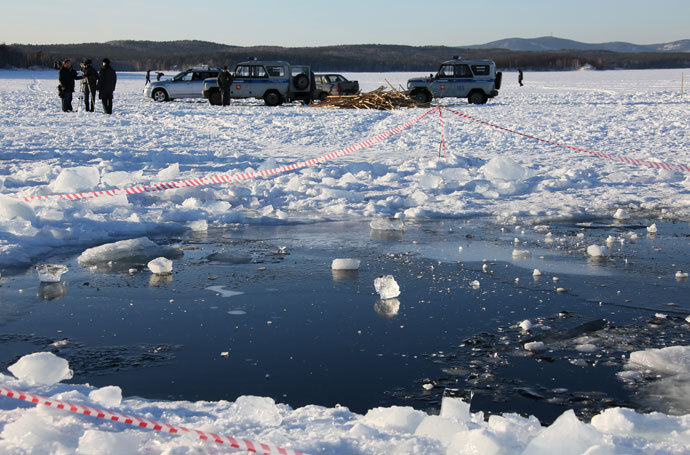 The firm which was hired to lift the fragment from the lake, has already transported a floating platform to the location to serve as a base of operation, reports Itar-Tass news agency. Two additional platforms will be towed over the next few days, after which divers will use injector-jet pumps to move the silt away and lift the meteorite.
The fragment is the largest by a great margin found from the blast event, which was the most powerful of its kind since the Tunguska Event in 1908. Previously only several dozen fragments weighting up to a few kilograms were discovered and studied.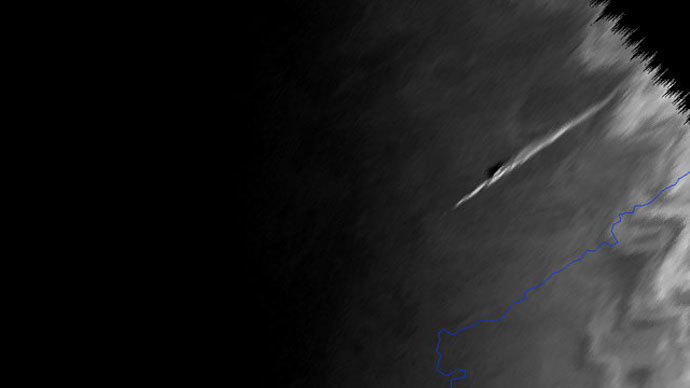 When the meteorite exploded in February numerous videos of the meteorite explosion appeared online, scoring millions of views across the world. Western audiences were surprised to find out that many Russians have dashcams in their cars – the main source of the fireball footage.
Witnesses' mild reaction to the blast sparked a flurry of jokes, more so because people living in Chelyabinsk Region have long had a reputation as tough and spectacularly calm folk.