4:20pm sharp: Thousands rally across Canada to legalize cannabis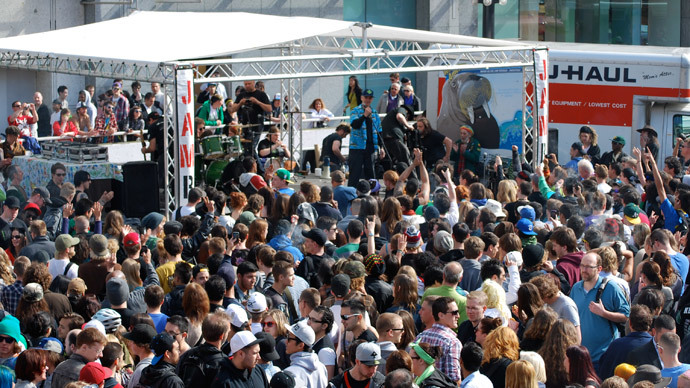 Thousands of people have flooded the streets of Canadian cities in a protest calling for the legalization of marijuana. The rally has been inspired by government promises as well as the easing of cannabis policy in Uruguay and some US states.
The rallies, dubbed '420' after the annual day of celebrating cannabis culture – April 20 - were held in the Canadian capital, Ottawa, as well as in the country's biggest cities of Toronto, Ottawa, Winnipeg, Calgary and Halifax, reported Canadian press.
Ottawa demonstrators have gathered in the lawn on Parliament Hill under the Peace Tower next to the parliamentary building. The protesters were playing music, openly smoking pot, and holding Canadian flags with a cannabis leaf on it instead of a maple leaf. According to local police, the rally gathered at least 2,000 people.
"It's a credit to the cannabis community in a way that, even though … we're put in jail, we're constantly demonized by society, we can gather here on the front lawn of the highest parliament in the land and openly defy the law with no fear — because we know that we have truth on our side," said John Albert, a former candidate to the Marijuana Party of Canada. He claims the current legislation on cannabis highlights political hypocrisy
Recent legalization of cannabis in Colorado and Washington State, both for the sale and possession of the drug for non-medical uses, also prompted the rally.
"We would like a choice," said Albert. "I think what is happening in Colorado and Washington has kind of crystallized it in people's eyes. They see that it's a real thing, that legalization can work, and be a benefit to not just people who smoke cannabis, but to just regular taxpayers."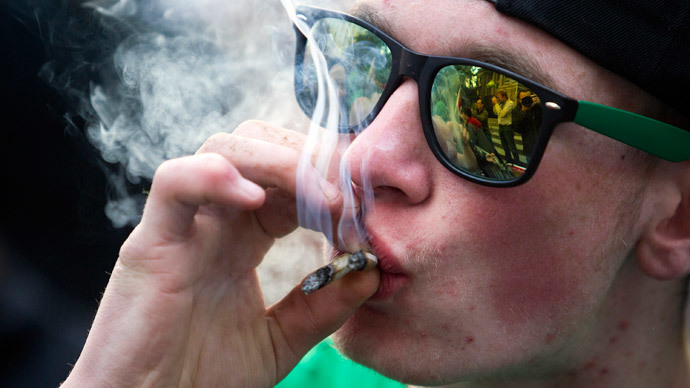 Among the demonstrators, there were many medical pot users who are fighting in Federal Court to retain the right to grow cannabis on their own, a practice the country's Conservative government wants to end.
"We're fighting for the right to keep using it and keep growing it ourselves," said Ray Turmel, 62, a cannabis user.
The Royal Canadian Mounted Police in Ottawa said the event was peaceful, without any violations.
"Usually at about 4:20pm protesters will be exercising their right to light up, if you want," said police Cpl. Lucy Shorey. "The RCMP respects the rights of individuals to protest on Parliament Hill and that's what we're here for today."
Meanwhile, in Vancouver more than 150 booths were set up for the event, which were selling gluten-free pot brownies.
The members of SensibleBC, a movement to decriminalize cannabis possession in British Columbia through a referendum, were also present in Vancouver's demonstration.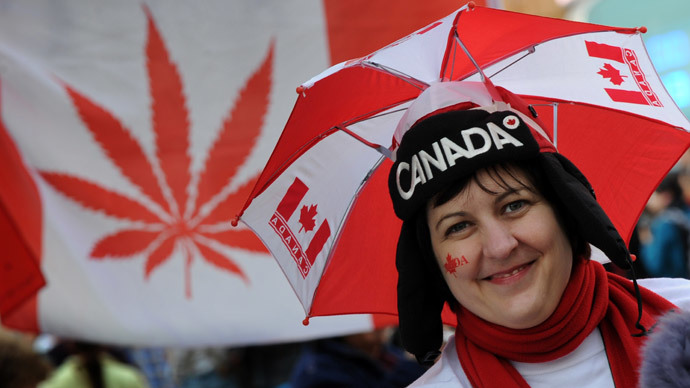 The legal status of cannabis in Canada is still under dispute. In March, Canada's Conservative government said it was considering loosening the country's drug legislation so as to ticket rather than lay charges against those in possession of small amounts of marijuana.
The softer approach has been supported by the country's PM Stephen Harper, much to the joy of the opposition Liberal Party, whose leader Justin Trudeau promised that if his party got majority in elections, it would have marijuana legalized.
Big day on #parliament hill. Visibility was low, but spirits were high. #legalizeit #420 pic.twitter.com/fVB6JJ8kfx

— james douglas (@jamesdouglas22) April 20, 2014
However, currently those found guilty of possessing small amounts of marijuana can face up to five years in jail. The law is softer for first-offenders. If convicted, they can be fined up to C$1,000 (US$907) or be given a six-month jail term.
"It's a new vibration in the marijuana movement because we feel, in some ways, success is on the horizon," said Dana Larsen, former Cannabis Culture magazine editor, and now a spokesman for SensibleBC, "There is a different atmosphere now, and people are looking forward to actual change happening."
#NiagaraFalls#Canada #420 Was too busy smoking at 4:20pm to make a post at that time #LegalizeIt@pmharperpic.twitter.com/shiFz2yQFB

— Jack₆⁶₆Smith (@J_666_S) April 20, 2014
April 20 is considered a counterculture holiday in North America, where people gather to celebrate and consume cannabis. The code 420 is attributed to a group of young cannabis-lovers in the 1970s who met up at 4:20pm on that date.
Meanwhile, the UN has said that that making cannabis legal poses grave danger for the world. Despite global criticism, in December 2013 Uruguay legalized the sale and production of the drug.
420 rally on parliament hill in the capitol of Canada! Happy #FourTwentypic.twitter.com/aJrr69c3wM

— Daryl_in_Ottawa (@DarylBertrand) April 20, 2014
You can share this story on social media: