Canada protest spreads as arrest list hits 2,500 benchmark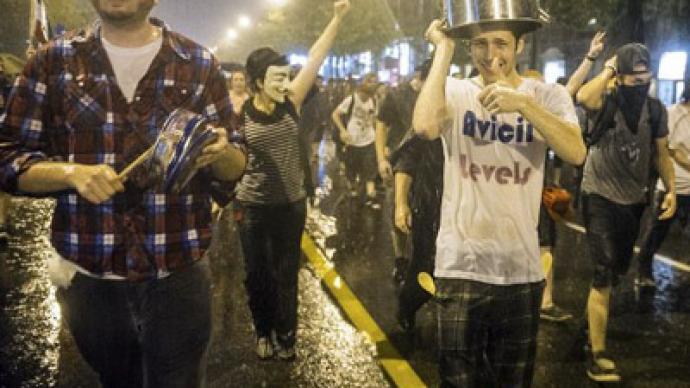 Ontario students have pledged to take to the streets in solidarity with their protesting fellows in Montreal and other cities of Quebec. The students are defying emergency laws the authorities are imposing to curb down the wave of dissent.
Students in Quebec have been protesting for more than 100 days now, with violent clashes between police and protesters reported on several occasions. The latest demo on Wednesday night resulted in a police crackdown on demonstrators.About 700 people were detained throughout the province, which pushed the total number of detentions over the months over 2,500. That is at least five times more than during the 1970 crisis, when martial law was declared in Quebec in response to the actions of radical nationalists.The protest against the hike of tuition fees was mainly focused in the province's largest city Montreal, but it is now spreading outside of Quebec. A group of students the neighboring province of Ontario pledged their support of the movement Friday."The most important thing we can do in Ontario to support the struggle in Quebec is to bring the spirit of democracy and activism into the province of Ontario," said student and activist Xavier Lafrance as cited by the Toronto Sun. "The spirit is in the air. Mr. McGuinty needs to be aware that it can and will happen in Ontario."Calling the rally scheduled for June 5 the "beginning in Ontario," Sandy Hudson, Chairperson of the Canadian Federation of Students – Ontario, said the group is expecting to "build a movement and have capacity."On May 18, Quebec provincial government issued a controversial emergency regulation called Bill 78 designed to undermine the students' ability to impose school shutdowns. It restricts public gatherings larger than 50 people, provides fines for protest leaders endorsing unsanctioned events and forbids covering of faces on demos, among other things.The regulation's effect on freedom of assembly is drawing an increasing number of older protesters to join their students. The Montreal Gazette cites Henri Fernand, 65, who took part in Wednesday's rally in his wheelchair as saying: "The youth is our future and I'm proud of them. I'm here in solidarity with the students."
You can share this story on social media: