Canada's PM Harper dubs summit 'G7+1' as Russia only one not to side with Syrian rebels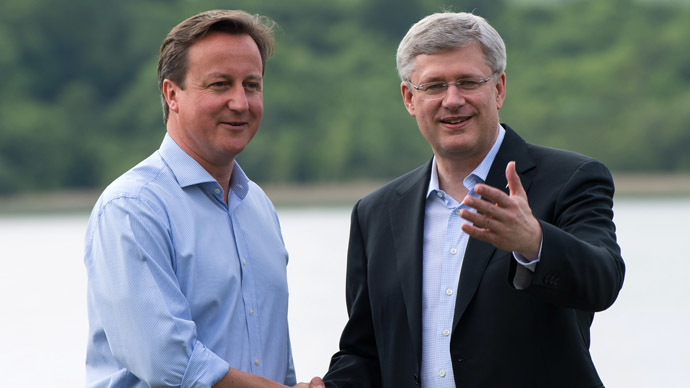 The G8 summit is in fact G7 plus one, Canadian Prime Minister Stephen Harper contends, slamming Russia for "supporting" the Syrian regime. His words mark the split at the summit, where Russia is set to oppose arming Syrian rebels.
Tensions ran high at the sidelines of the G8 summit, as the leaders of the eight world nations gathered in Northern Ireland for Syria-dominated talks.
Canada's Harper chose to draw a line between Russia and the other countries at the summit, saying he thinks it is the odd one out when it comes to views on the Syrian conflict.

"I don't think we should fool ourselves. This is the G7 plus one. Let's be blunt, that's what this is: the G7 plus one," Harper said.
Russia joined the 1975 founded group, which includes Canada, the United States, Germany, Italy, Japan, France and Britain, in 1997.
Harper has leveled criticism at Russian President Vladimir Putin's government's position on Syria for allegedly "supporting the thugs of the Assad regime for their own reasons," which, he believes, are "not justifiable."
Putin on Sunday reminded that "blood is on the hands of both parties," and that the human organs-eating Syrian rebels "can hardly be justified" at a meeting with British Prime Minister David Cameron.
The Russian President wondered how come the UK and other countries speak for arming such people, whose actions "hardly correspond" with European values.
In a recent interview with RT, Putin also stressed that "we [the Russian government] are not advocates of the current Syrian government or the country's current president, Bashar Assad," that Syria has been "obviously ripe for some kind of change," but that the current conflict's outcome could cast the country into a state of chaos.
While Harper has advocated his G7 allies' plans for sending arms to the Syrian opposition, he said Canada is not yet going to make such a move.
"We are not contemplating arming the opposition in Syria. I understand – fully understand – why our allies would do that, particularly given recent actions by Russia, Iran and others," Harper said, adding that Canada will "for now" be providing humanitarian aid only.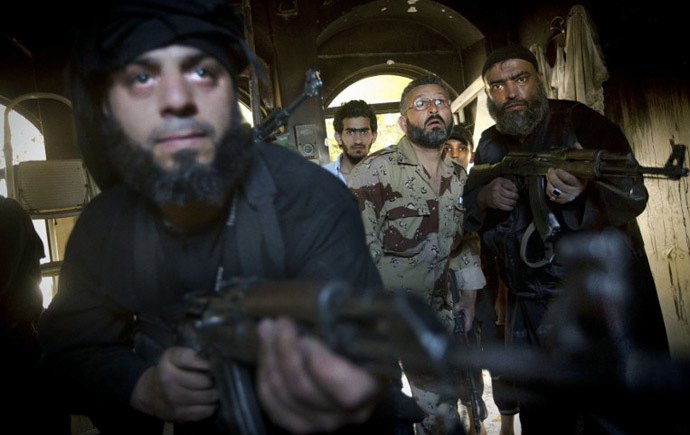 From his point view, the other countries do not need Russia in their efforts to effect a democratic transition in Syria, and it is most important for Canada to work with other members of the G7 and its allies in NATO to "move the situation in a positive direction."
However, Harper failed to note that Russia has long been working on a peaceful settlement of the conflict, and has been urging the conflicting sides to come to negotiation table and end the bloodshed.
The G7 countries have also not been as unified on their leaders' course for arming the rebels as the Canadian official wishes to believe.

Even as the UK's Cameron has been lobbying the move for months, London's Mayor Boris Johnson, along with a number of prominent British political and social figures, has clearly warned against "pressing weapons into the hands of maniacs and Al-Qaeda thugs."
The US has seemingly been trying to advocate direct arming of the rebel fighters by claiming it has evidence of chemical weapons use by the Syrian regime.
The Russian Foreign Ministry, however, found this evidence "fabricated" and "unconvincing." It also repeatedly warned that selling arms to non-state actors would be a breach of international law.
Setting up a no-fly zone over Syrian territory will also likely spark a heated debate at the G-8 summit, as Washington said it is "reviewing" such a possibility, while Moscow said it is set to "not allow the repetition of the [Libyan] scenario" and would veto such a decision.

You can share this story on social media: