Brunei's plan to stone gays riles UN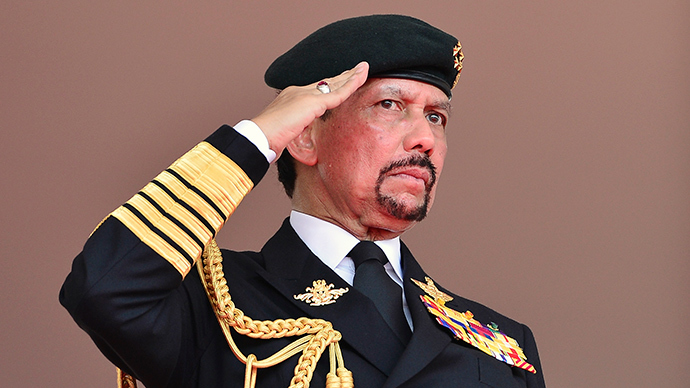 The Sultan of Brunei has announced that those committing same sex relations could be stoned to death. The draconian law has brought condemnation from the UN, with the tiny Asian oil rich nation having a virtual moratorium on the death penalty since 1957.
Homosexuality has long been a criminal offence in Brunei, which is situated on the island of Borneo, with a penalty of 10 years in prison previously handed out for the offence. However, stoning is now set to be allowed for a range of sexual offences, such as rape, adultery, sodomy, extramarital sexual relations. The law is planned to come into force on April 22.
The United Nations has been very critical of the move, with Rupert Colville, a spokesman for the Office of the UN High Commissioner for Human Rights saying, "the application of the death penalty for such a broad range of offenses contravenes international law." The death sentence could also be imposed for insulting any verses of the Quran and Hadith, blasphemy, declaring oneself a prophet or non-Muslim, and murder. The new law will only apply to Muslims, who make up about two thirds of a total population of just over 400,000.
Speaking at a conference in Geneva, Coville urged the Brunei government to conduct a comprehensive review of their planned law saying, "under international law, stoning people to death constitutes torture or other cruel, inhuman or degrading treatment or punishment and is thus clearly prohibited."
A change in Brunei's criminal code to introduce stoning was first mooted in October 2013. The Sultan, Hassanal Bolkiah, who has ruled the country since 1967 has been keen to introduce sharia law, to strengthen Islam within the nation.
Brunei practices a more conservative form of Islam than neighboring Malaysia and Indonesia, although they ban the sale and public consumption of alcohol and closely restrict other religions.
The use of stoning as a punishment is allowed in just a handful of countries around the world. In February, a couple were stoned to death for adultery in a remote area of Pakistan's western Baluchistan province.
Uganda recently passed a law to impose life sentences for those caught committing homosexual acts, while a leading Kenyan MP said that homosexuality in Kenya "is as bad a problem as terrorism." The country has been recently hit by a spate of violence by Al-Qaeda linked Somali Islamist militants, who have carried out attacks in retaliation for Kenya's intervention in neighboring Somalia.
You can share this story on social media: