Stoning to make comeback as punishment for adultery in Afghanistan?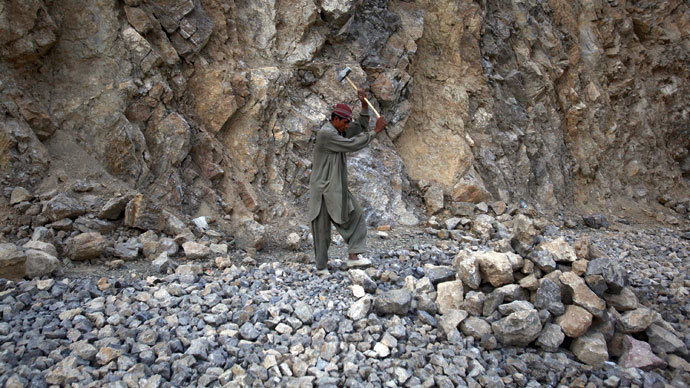 Twelve years after the fall of the Taliban regime and its medieval justice system Afghanistan is looking at bringing back public stoning and flogging as punishments for adultery, Human Right Watch says.
Punishments such as public stoning for married adulterers and flogging for unmarried individuals appear in the draft revision of Afghanistan's penal code, being updated by the ministry of justice, according to the international human rights organization.
"Men and women who commit adultery shall be punished based on the circumstances to one of the following punishments: lashing, stoning [to death]," article 21 states, according to the Guardian, which saw a translated copy of the draft. Further down in the documents, it is specified that stoning should be public. 
The documents also list detailed judicial requirements for handing out sentences.
Human Rights Watch called on Afghanistan to reject such a law. "International donors, including those supporting the legal reform process, should send a clear message to President Hamid Karzai that inclusion of stoning in the new penal code would have an immediate adverse effect on funding for the government," the group said.
The Asia director at Human Rights Watch Brad Adams added that "it is absolutely shocking that 12 years after the fall of the Taliban government, the Karzai administration might bring back stoning as a punishment … President Karzai needs to demonstrate at least a basic commitment to human rights and reject this proposal out of hand."
Meanwhile, the head of the Justice Ministry's punishment laws department Mohammad Ashraf Azimi said that no such law had yet been submitted for review.
"As a member of the department for the punishment laws, I haven't seen this part of the law they are mentioning," AP quoted him as saying. "I don't know where they found it and why they are emphasizing it. We are the people working on it and we haven't seen it."
According to Azimi, it will take Afghanistan two more years to finish updating the new penal code set to replace the current one, which has been in effect since 1976. He revealed that one of the groups was indeed tasked with looking at Islamic Shariah law and drafting various proposals for dealing with adultery. 
Currently, adultery can be punished with up to 15 years in prison. But, stoning was used from mid-1990s until late 2001 during the Taliban government. 
Adultery is a controversial and at times deadly topic in conservative Afghan society, as honour killings remain common in the country, especially in areas still controlled by the Taliban. 
One of the most recent cases involved a couple being shot by their relatives for adultery. 
Provincial head of women's affairs Khadija Akhil told AP that the 28-year-old man and 25-year-old woman were both married to other people. "They were caught and when police went to the area the villagers said they were punished according to our culture," Akhil said. They were killed in the Taliban-dominated area in northern Baglan province on Saturday. 
In response, the country's Interior Ministry ordered an investigation into the murders on Monday.
You can share this story on social media: