British-Somali man abducted from Africa appears in US court
Published time: 24 Dec, 2012 13:49
Edited time: 24 Dec, 2012 17:49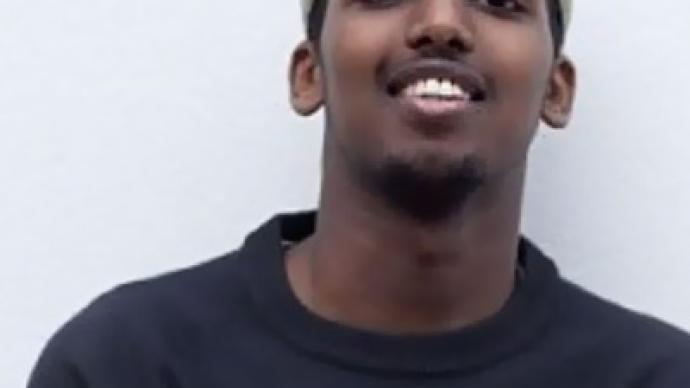 A British-Somali man, who earlier this year was stripped of British citizenship and subsequently went missing, has appeared before a US federal court to face charges of terrorism.
­Mahdi Hashi, 23, disappeared on the outskirts of Mogadishu, Somalia, several months ago. He stands accused of "providing material support" to Somali militant group al Shabaab and "the unlawful use of high-powered firearms."

An FBI statement revealed that from December 2008 to August 2012, Hashi, known as 'Talha,' joined with two other men also on trial and "participated in weapons and explosives training with members and associates of al Shabaab," and was "deployed in combat operations to support al Shabaab's military action in Somalia."

If convicted of all charges, Hashi will face a mandatory minimum jail sentence of 30 years and a maximum sentence of life in prison.
The other two defendants were identified by the FBI as Ali Yasin Ahmend and Mohamed Yusuf, who allegedly hold Swedish citizenship. The three men were apprehended in Africa in August while traveling to Yemen, US authorities said.
Hashi has been in the US penal system since November 12, however, his family and his legal team were not informed of his capture, the FBI said.
Hashi, who had been raised in London since he was 5, was stripped of British citizenship in June over accusations of his involvement with Islamist extremists. His family claims that the decision was prompted by Hashi's refusal to become an informant for MI5.
In 2009, while still in the UK, he and his Muslim acquaintances were allegedly harassed by security agents, who tried to force them to spy on their Muslim neighbors.
"All I can say is that Madhi is a Muslim in belief; he is a practicing Muslim. But being a practicing Muslim does not mean an Islamist. That's all why he is being victimized,"Hashi's father Mohamed told RT.
Sometime after the incident, Hashi returned to Somali to care for his grandmother. He went missing in the summer of 2012.
Mohamed Hashi said that after his son disappeared, the family was contacted by a man who claimed he had been held with Madhi in a jail in neighboring Djibouti.