Bribed judge tried to eat his criminal case records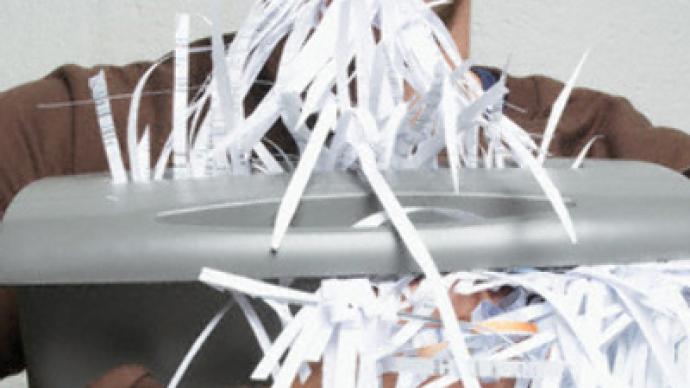 A Ukrainian judge charged with bribery tried to eat hundreds of pages from his criminal case records in an attempt to delay the trial, reports Newspaper Po-kievski, referring to a source in the Prosecutor's office.
Former head of Lvov Court of Appeal Igor Zvarich resorted to the unusual measure when investigators gave him the evidence so he could study his case. Instead, the judge ripped out the pages from the records and even gnawed them, the newspaper quotes its source as saying. The investigators also suggest that Zvarich's lawyers took the damaged pages with them and threw them away, all to delay the trial.
Unfortunately for the resourceful judge, the great digestion effort was in vain as the investigators had copies of the criminal case records so it was not difficult to restore the damaged pages. Meanwhile, the time allocated for the defendant to study the case has run out and in the very near future Zvarich has to appear in court.
Tatiana Turchina, Zvarich's press secretary, is sure that the judge could not possibly eat so many pages in such a short period, reports news agency IMK.
"We did say that there were some pages missing from the criminal case records when Mr Zvarich was studying them. But to suggest that he himself has eaten 600 pages… Imagine: he has been detained for a little more than a year. Doest it mean that he ate two pages a day? Moreover, he has never met his lawyers without the presence of other people. Somebody from the General prosecutor's office was always present at those meetings. Do you mean to say that Zvarich was eating the pages and the Prosecutor's official was calmly watching the process?" said Turchina to IMK.
Currently, Zvarich is going to defend himself. As a protest against the disqualification of one of his lawyers, the determined judge refused the help of the other lawyers altogether.
Igor Zvarich was arrested in December, 2008 when he was accepting a bribe of 150 000 dollars. At that time he denied his guilt and said that he was going to give the money to a church. Later, the investigators also found more than one million dollars in cash in his office and at home.
Afterwards, Zvarich was put on the wanted list when he escaped from the hospital where he was being treated. Zvarich was caught for the second time in March, 2009. The judge was hiding in the attic of a house in Lvov. Since then he has been held in the pre-trial detention center.
In addition to bribery charges, Igor Zvarich was also involved in a sex scandal after Ukraine's deputy general prosecutor announced his office has a collection of pornographic tapes with the judge in the lead role.
You can share this story on social media: