Brazil's Rousseff to UN: US surveillance an 'affront'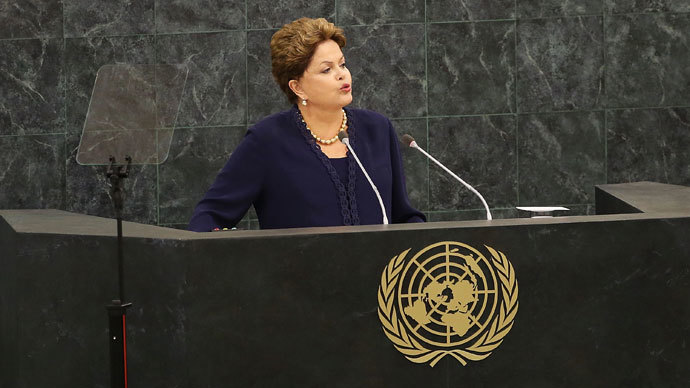 Brazilian President Dilma Rousseff lambasted US spying on her country at Tuesday's UN summit, calling it a "breach of international law." She further warned that the NSA surveillance, revealed since June, threatened freedom of speech and democracy.
"Meddling in such a manner in the lives and affairs of other countries is a breach of international law and as such it is an affront to the principles that should otherwise govern relations among countries, especially among friendly nations," Rousseff said.
"Without the right to privacy, there is no real freedom of speech or freedom of opinion," Rousseff told the gathering of world leaders. "And therefore, there is no actual democracy," she added, criticizing the fact that Brazil had been targeted by the US.

"A country's sovereignty can never affirm itself to the detriment of another country's sovereignty," she added.

Rousseff went on to propose a multilateral, international governance framework to monitor US surveillance activity. "We must establish multilateral mechanisms for the world wide web," she said. 

Rousseff said that the US's arguments for spying on Brazil and other UN member states were "untenable", adding that "Brazil knows how to protect itself" and that the country has been "living in peace with our neighbors for more than 140 years."

Brazil's specific targeting in US surveillance practices prompted Rousseff's government to announce that it intends to adopt both legislation and technology aimed at protecting itself and its businesses from the illegal interception of communications. 
A week ago, Rousseff canceled an impending state visit to Washington, scheduled to take place in October, because of indignation over spying revelations. Rousseff has stated she wants an apology from Obama and the United States.

The revelations that the US National Security Agency has been intercepting Rouseff's own phone calls and e-mails, in addition to those of her aides and officials at state-controlled oil and gas firm Petrobras, have prompted an outcry in Brazil. 
Rousseff's predecessor as Brazilian President, Lula da Silva, said earlier this month that Obama should "personally apologize to the world." Lula accused the US of "thinking that it can control global communications and ignore the sovereignty of other countries" in an interview with India's English-language daily The Hindu, published Sept. 10.


Latin America voices widespread indignation at US activities

US relations with all of Latin America have recently soured. In addition to Brazil, Mexico, Bolivia and Venezuela have all voiced anger with the US over the NSA's surveillance of their countries this year. Bolivia has been especially bitter.

"I would like to announce that we are preparing a lawsuit against Barack Obama to condemn him for crimes against humanity," President Morales told reporters Friday in the Bolivian city of Santa Cruz. He branded the US president as a "criminal" who had violated international law.

In early July, a plane carrying Morales from Moscow to the Bolivian capital, La Paz, was grounded for 13 hours in Austria after it was banned from European airspace because of US suspicions it was carrying fugitive Edward Snowden, the former NSA contractor who has been responsible for the majority of leaks regarding NSA spying practices since June. 
Venezuela wrote to UN Secretary-General Ban Ki-moon at the end of last week, requesting that he take action in response to the apparent denial of US visas to some members of the Venezuelan delegation who were scheduled to attend the UN General Assembly in New York.

President Nicolas Maduro said that the denial seemed intended to "create logistical obstacles to impede" the visit, and further requested that the UN "demand that the government of the US abide by its international obligations" as host of the 68th UN General Assembly.

Tension between Venezuela and the US rose Thursday when Venezuela's foreign minister, Elias Jaua, told media outlets that the US had denied a plane carrying Maduro entrance into its airspace. The aircraft was en route to China. Washington later granted the approval, stating that Venezuela's request had not been properly submitted. Jaua denounced the move as "an act of aggression."

You can share this story on social media: