Brazil's foreign minister resigns in diplomatic flap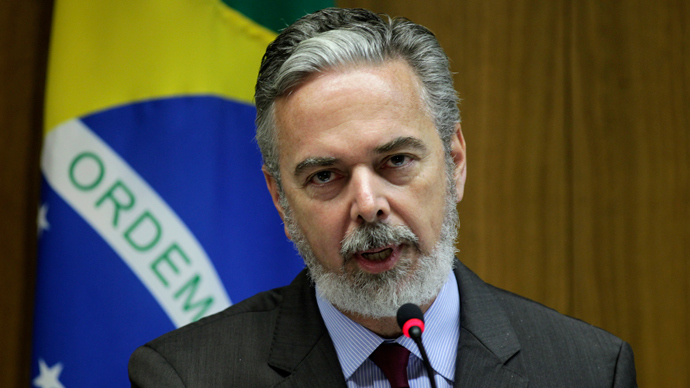 Brazil's foreign minister has resigned after an embarrassing incident in which one of his diplomats admitted helping a Bolivian senator accused of corruption flee prosecution and enter Brazil.
Brazilian President Dilma Rousseff's office announced Monday that Foreign Minister Antonio Patriota would vacate his position. Luiz Alberto Figueiredo, who for the past two months has served as the head of Brazil's United Nations delegation, will now hold the foreign minister's position. 
Patriota, now Brazil's former ambassador to the United States, will in turn assume Figueirdo's role as head of the UN delegation. 
The seeds of the shake-up were laid 15 months ago when Bolivian Senator Roger Pinto was sheltered in the Brazilian Embassy in Bolivia's capital of La Paz. Pinto accused Bolivian President Evo Morales' administration of having ties to drug traffickers and said he needed to remain in the embassy because of the number of death threats his family had received.
The Morales government has asserted that Pinto has provided no evidence to back-up his claims and has sought to file criminal charges, including economic damages, against the senator, whom they deemed corrupt. 
Pinto was eventually sentenced to one year in jail in Bolivia but was granted asylum and spent 452 days hidden in the Brazilian embassy, until Eduardo Saboia, a Brazilian diplomat, admitted on Monday that he had smuggled Pinto into Brazil. 
"I chose life. I chose to protect a person, a persecuted politician like President Dilma (Rousseff) was persecuted," Saboia told Globo television, adding that he made the personal decision to ferry Pinto out of La Paz "because there was an imminent threat to the life and dignity of the senator." 
Saboia also said Pinto had threatened to commit suicide. 
"He was taken in by Brazil as (a person who was being) politically persecuted," Ricardo Ferraco, of the Brazilian Democratic Movement Party, told Globo. "He was persecuted in Bolivia for denouncing drug trafficking." 
Rousseff chose Figueirido, 58, as Brazil's new foreign minister because she was "very impressed" with his work at the Rio+20 environmental conference last summer, a source told Reuters. Before serving at the UN he was Brazil's undersecretary for environment, energy, science and technology at the foreign ministry. 
Pinto's escape "created a complicated situation" for Patriota, who is thought to have been directly disobeyed by one of his subordinates.