Young leftist activist brain dead after 'politically motivated' Paris skinhead attack
Published time: 6 Jun, 2013 13:48
Edited time: 6 Jun, 2013 17:56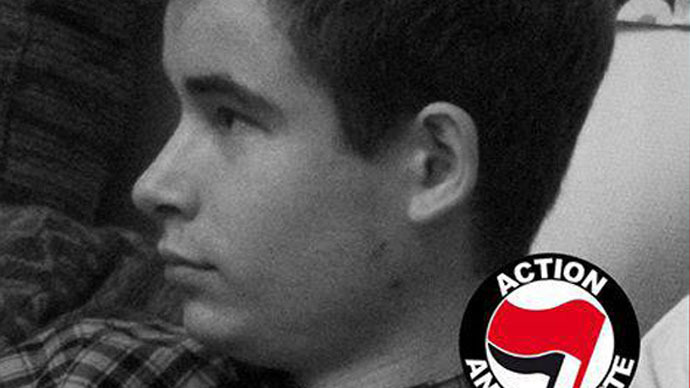 A left-wing French activist has been rendered brain dead after being brutally assaulted by neo-Nazi skinheads. Police called the attack against the 19-year-old 'politically motivated.'
Police described the attack against left-wing anti-fascist activist Clément Méric as "politically motivated incident involving the far-right versus the far-left," with witnesses saying angry words were exchanged between he and "skinhead type individuals," according to AFP.

Nineteen-year-old Meric, a student at Sciences Po, one of France's most prestigious universities, suffered multiple blows from the assailants. One of them was reportedly wearing brass knuckles.
Four suspects, aged 20 to 37, were arrested, Paris prosecutor's office spokeswoman Agnes Thibault-Lecuivre said.

It remains unclear how many people were involved in the attack or how the fight developed.

Méric was reportedly visiting a clothes sale with friends late Wednesday when they got into a confrontation with three individuals. They left to gather a larger group of people, and attacked Méric as he left the building, knocking him to the floor. In addition to injuries sustained from the assailants' blows, he also hit his head on the pavement.
The deadly blow is believed to have been delivered by a 21-year-old with links to Paris-based neo-Nazi organization JNR (Young Revolutionary Nationalists), AFP reports citing police sources.

He was declared brain dead in one of the capital's hospitals later on Wednesday night.

Social media exploded in fury at the attack, with some saying "Clement was murdered by thugs," and others deriding racist right-wing propaganda, pitting the far-right and far-left directly against one another. 
Politicians from left and right lashed out at the violence.

"There is no place for small neo-Nazi groups whose enemy is the nation," Interior minister Manuel Valls said. "A group of the extreme right is at the heart of this ... There is a discourse of hate and a climate that favors this discourse. We need to pay attention to this, because they threaten our values."

Paris-based neo-Nazi organization JNR (Young Revolutionary Nationalists) were blamed for the incident by a collection of far-left French parties known as the 'Parti de Gauche,' in a statement released shortly afterwards. "The horrors of fascism have brought murder to Paris," the statement read.

The JNR has been active for more than 30 years, and is infamous for committing similarly violent attacks since its founding. Left-wing groups have demanded that the JNR be banned if a direct link to this recent assault is proven.

The 48-year-old founder and head of the JNR, Serge Ayoub, told reporters on Thursday that the  allegations were false, and that the beating was likely instigated by left-wingers.

French President François Hollande's office issued an official statement in the wake of the attack, condemning the perpetrators and revealing that police were under "firm instructions to ensure that the perpetrators of this odious act are arrested as soon as possible." 
"For too long these groups have created disorder and have to be repressed," Hollande said.

An anti-fascist vigil being held at the London mosque which suffered an arson attack on Wednesday has said they will keep him in their thoughts. Also hundreds of students came to Sciences Po University to pay tribute to Meric. 
The Party of the Left has called for demonstrations in Paris to protest against violence by groups on the extreme right.