Russian city livid after toddler lost in urban sinkhole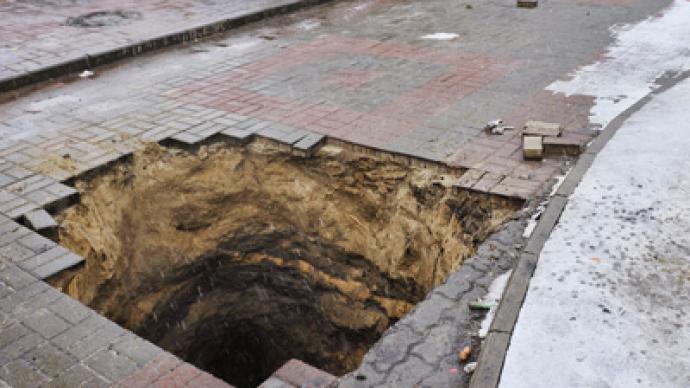 A normal weekend stroll with her one-and-a-half year-old son turned tragic for a young mother in the western Russian city of Bryansk, when the ground opened up under her feet.
Tatyana Didenko, 26, and her only son Kirill fell into a sinkhole on a busy street in Bryansk Sunday. The woman was saved by her husband Vladimir Didenko, a traffic police officer – someone called him shortly following the accident, and he was not far from the scene, Komsomolskaya Pravda reports. "He pulled his wife out, she caught the edge of the ditch and held on," witnesses told the newspaper. "But he couldn't manage to save the child," they added. Tatyana was taken to hospital in a state of shock, but the boy – who slipped out of his stroller and fell four meters into the ground – was not immediately found. Divers and emergency ministry rescue workers  searched for the toddler for 28 hours, but had little hope of finding the boy alive. His body was recovered more than a day later, in a sewage collector some distance away from the accident site. Emergencies Ministry officials say a drainpipe must have burst, pushing so much water through the ground that it created the massive hole. Bryansk residents are livid over authorities' carelessness and negligence, which they blame for the tragedy. "What are our community services busy with, if such a hole could have appeared in the city center?" they demanded to know. The scour was quickly boarded up, and a criminal manslaughter and professional neglect case has been initiated. Russian Children's Rights Ombudsman Pavel Astakhov demanded that the Bryansk Prosecutor's Office and other authorities inspect the city's roads and services, and the region's governor promised compensation to the Didenkos.
You can share this story on social media: