Moscow rally demands release of opposition activists from prison
Several thousand protesters gathered in central Moscow for a sanctioned rally in support of opposition activists jailed after violent clashes during a demonstration at the capital's Bolotnaya Square in May 2012.
According to police, around 2,000 took part in the event on Sunday, while organizers say between 12,000 and 15,000 came to demand the release of all those arrested as part of the so-called Bolotnaya case.
Holding portraits of the activists and placards that read, "Freedom for political prisoners," "We want changes," and "Russia will be free," protesters marched through central Moscow. They also collected financial donations for the prisoners.
The gathering brought together mainly activists of opposition movements and parties such as the Left Front and the liberal Yabloko.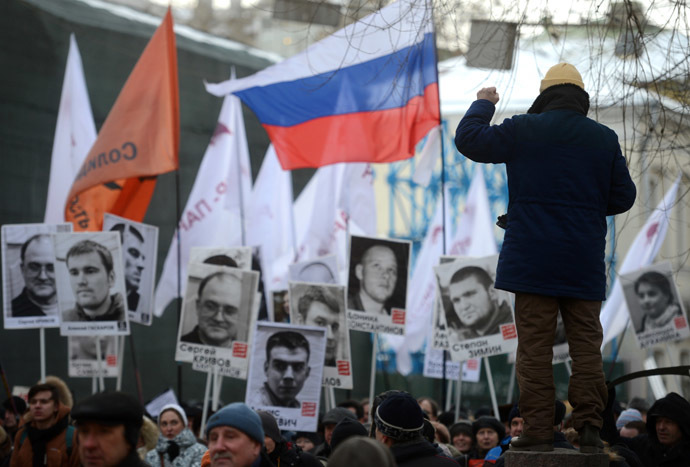 Former Prime Minister Mikhail Kasyanov, a co-chairman of the Republican Party of People's Freedom, also known as Parnas, was among the protesters.
"There was no mass unrest on May 6, 2012," Kasyanov said. "There were no beating, and, as [officials] say resistance to police," he said in an interview with the US government-funded Radio Free Europe. "We protest against… actions of the state that are aimed at personality suppression."
Nikolay Kavkazsky, a member of the Yabloko party's youth wing who was put in prison after the May 6, 2012, protest and granted amnesty in December, said that such demonstrations "are necessary."
"Even if at least 3,000 people take to streets, it will help the Bolotnaya case prisoners, including those who are now waiting for a court ruling," the party's press service quoted him as saying.
The rally was also joined by a small bunch of anarchists, nationalists and even demonstrators with Ukrainian flags. Several activists were waving rainbow flags, using the occasion to draw attention to LGBT rights.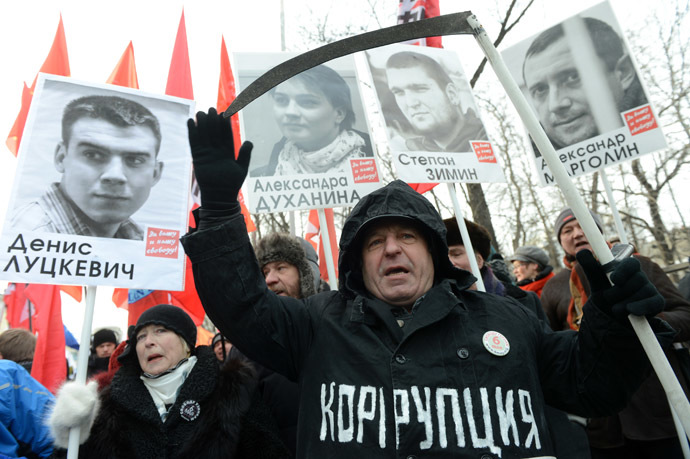 The event ended peacefully, with no violent incidents or arrests reported. Moscow authorities complained though, that far fewer people turned up for the rally than organizers had predicted while applying for permission to hold the demonstration.
"We built the entire security system based on that number of people [15,000]. But the organizers failed to gather the announced number of participants," the head of Moscow's security department, Aleksey Mayorov, told RIA Novosti news agency.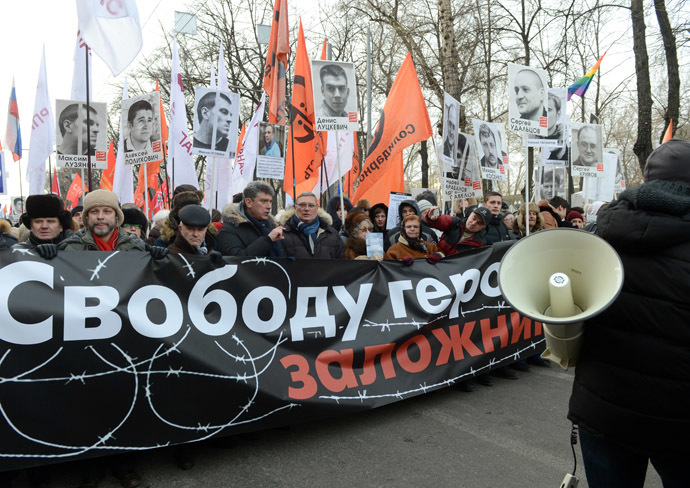 The Bolotnaya case involved criminal proceedings against about 30 people in the aftermath of the rally on Bolotnaya Square a day before President Vladimir Putin's re-inauguration for a third term as president on May 7, 2012. Several dozen people, including police officers, were injured in a series of violent clashes. A criminal investigation into mass unrest was opened, and several protesters were also accused of using violence against law enforcement officers.
Eight of the suspects were released after Putin signed an amnesty bill to coincide with the 20th anniversary of the country's Constitution in December. Two of the rioters have already been sentenced – to 2 1/2 years and 4 1/2years behind bars, respectively – while others are awaiting court verdicts.
You can share this story on social media: