Lawlessness can bring back 1917 revolution – Putin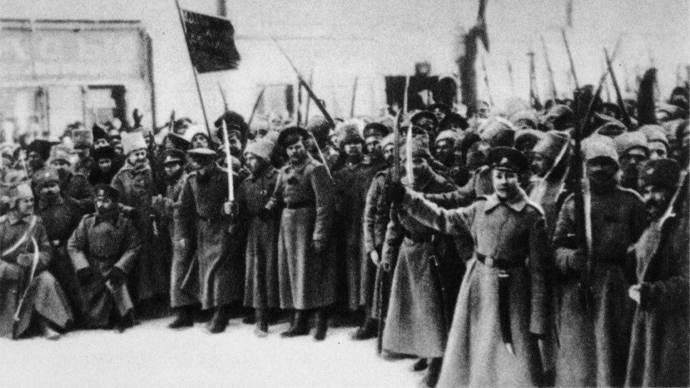 The Russian President has warned that if protesters are allowed to evade justice this could spark a crisis similar to the Bolshevik revolution of 1917.
Vladimir Putin spoke on Thursday at the Literature Assembly – the congress of literature-related personalities gathered at the initiative of descendants of famous Russian writers, such as Tolstoy, Dostoyevsky, Pushkin and Solzhenitsyn. 
When modern writer and political activist Sergey Shargunov asked the President about the possible fate of the so called Bolotnaya prisoners – about two dozen people who are currently on trial for attacking police officers during a mass rally in Moscow in May 2012, Putin replied "there are thresholds that cannot be stepped over, there is a red line. The state must not be cruel, but it must provide that everyone observed certain rules".
"We all must learn to live by the law and understand that if someone is allowed to violate this law – like tearing shoulder patches off a policeman's uniform or punching policemen in the face – we would face the same problems we faced in 1917. Is this what anyone wants?" the Russian leader explained.
Putin also emphasized that it was wrong to describe the suspects and convicts in the Bolotnaya Square case as 'political prisoners' as all of them were prosecuted for criminal offences, like calls for mass unrest or assaults on law enforcement agents. "In our country no one is snatched or thrown in prison for thoughts, position or political views, and we will never allow this to happen," the President stressed.
In addition the Russian leader told the literature congress that there was a possibility of presidential pardon for the "Bolotnaya prisoners" as he was signing pardons relatively often. "We will pardon everyone who deserves it," he stated. In previous comments Putin also hinted at a pardon possibility but said that it was only possible after all legal procedures are duly completed.
Dmitry Dostoyevsky, the great-grandson of writer Fyodor Dostoyevsky commented on Putin's words saying that in some cases penal servitude was not an entirely bad thing and that his ancestor only benefited from it.
"Penal servitude is a serious crucible. If these people endure penal servitude and become geniuses, it will be good," he told the assembly which then burst into applause.