At least 19 dead after bombings, shooting in Somali capital (PHOTOS)
Published time: 14 Apr, 2013 14:43
Edited time: 14 Apr, 2013 15:04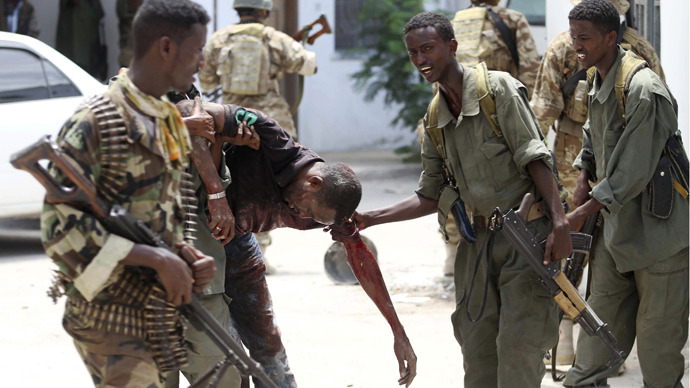 Two car bombs exploded outside the Supreme Court of Somalian capital Mogadishu before gunmen stormed the building and opened fire. A large explosion in an area near the Mogadishu airport followed hours later.
"About seven well-armed men in government uniform entered the court today as soon as a car bomb exploded at the gate. We thought they were government soldiers," said Aden Sabdow, who works in the neighboring mayor's office.
The blast of the car bomb was followed by gunfire, court worker Hussein Ali said.
Special forces arrived and besieged the building as a second blast struck. The ensuing gun battle continued for more than two hours.
"I never expected to make it out alive today,'' said Halima Geddi, a visitor of the court who took cover behind an outer wall. "There is no peace. No one protects us."
Sixteen people were killed in the attacks, but the identities of the victims are unclear, Reuters reported.

Hours later, another car bomb exploded at a building along the road to the Mogadishu airport as Turkish and African Union (AU) vehicles were passing, according to police and witnesses. Security forces rushed to the scene and surrounded the area.
"The car bomb exploded near the gate of a building housing the Somali security. AU and Turkish cars were also passing there. We are still investigating the target and casualties,"  police official Qadar Ali said.
Three people were killed in the attacks, witnesses reported.
Al-Shabaab has claimed responsibility for the attacks:"We carried out a superb intense mission in Mogadishu today. We killed 26 people including soldiers and court staff," spokesperson Sheikh Ali Mohamud Rage said, inflating the number of deaths. "We assigned five special mujahideen for the court – four of them entered and killed the people inside. The other mujahid with his car bomb exploded when government soldiers gathered at the gate."
Britain issued a warning on April 5 that it believed "terrorists are in the final stages of planning attacks in Mogadishu."
Most militant attacks in the Somali capital are blamed on fighters from Al-Qaeda-linked Islamic extremist rebel group Al-Shabab, which governed Mogadishu from 2006 until August 2011, when AU and Somali forces pushed them out of the city. Al-Shabab extremists have launched regular attacks on the capital city since 2011.