Three injured as bomb goes off in Southern Russia
Published time: 27 Aug, 2012 08:56
Edited time: 27 Aug, 2012 14:32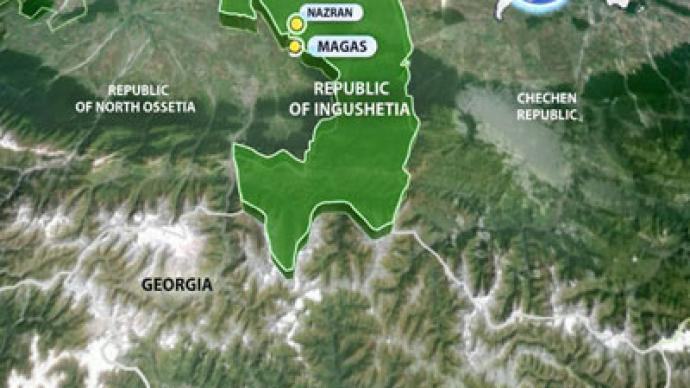 What is thought to be a home-made explosive device went off in Ingushetia's capital of Nazran around 12:30pm Moscow time on Monday. Local police report one of the three injured is in a critical condition.
Three men aged from 25-28 sustained shrapnel wounds. One of them is in extremely serious condition, with doctors fighting for his life.
The blast took place near Nazran's central market. The force of the explosive device was reportedly equivalent to two kilograms of TNT. The bomb was planted by the entrance to the grocery store which, according to Itar-Tass, sells alcohol.

Ambulances, rescue teams, investigators as well as special forces have arrived at the scene.
"The Maria shop has not been open for a long time," a source in the law enforcement told Itar-Tass. "On Monday the shop owner came to take some of her belongings. When she opened the door, unidentified bombers entered the shop carrying a bag. The bomb was detonated at that moment."
This is not the first time stores selling spirits have been attacked. On August 15, a massive blast rocked a liquor store in Nazran. This was a second attack on the shop: an unknown group had already tried to plant a bomb there in July.
Religious extremists in the North Caucasus often target what they see as "ungodly" venues and businesses. Apart from stores selling alcohol, gunmen attack fortune tellers and healers, whose services Muslims are prohibited to use.
Back in 2011, Ingushetia has banned sales of alcohol on Thursdays and Fridays. The republic's authorities claimed the measure is intended to help fight bootleg booze and reduce the high number of drink-related driving accidents. However, some locals argued that the new legislation is closely connected with Islam, which is the dominant religion in the region.
In Ingushetia, alcohol sales are permitted between 10am and 10pm from Saturday to Wednesday. In neighboring Chechnya alcohol can only be purchased between 8am and 10am. During the holy month of Ramadan, all alcohol sales are banned.