Big cash, big crash: Bitcoin aims to enter mainstream amid massive depreciation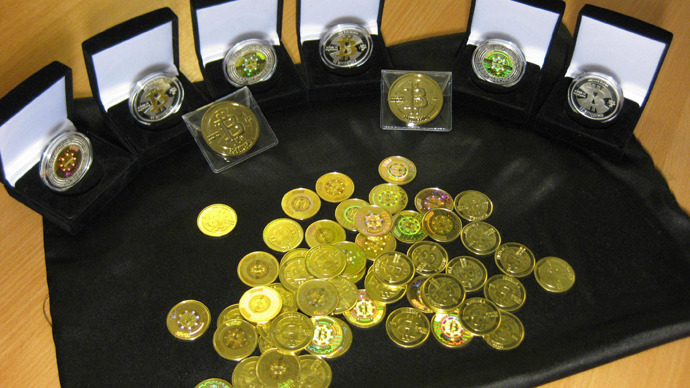 The recent crash of the decentralized currency Bitcoin in which it lost 60 percent of its value has not yet sent users running. Despite the collapse, experts claim Bitcoin will go mainstream in three months due to the financial crisis in Cyprus.
Bitcoin lost more than $160 in value – down from its record high on Wednesday of $266 per Bitcoin. Since then, the currency has recovered slightly, with Bitcoins now trading at around $173.
Just before the crash, the anonymous Reddit user 'Bitcoinbillionaire' gave away almost $14,000 in Bitcoins to random Reddit users over the day, Business Insider reported.  Bitcoinbillionaire made the donations through a Reddit feature that allows users to 'tip' each other with Bitcoins online.
So far, no connection has been established between the incident and the Bitcoin crash.
This is not the first time the digital currency has crashed: in August 2011, it fell to a low of $7 after hitting a high of $32 two months earlier.
The currency has shown what could be seen as either tremendous growth potential or vulnerability to speculation – just two months ago, each Bitcoin was worth $20.
In March 2013, Bloomberg valued the entire "alternative world currency" at over $600 million; it is now estimating the total value of Bitcoin at over $2 billion. Currently, there are about 11 million Bitcoins in circulation, with 25 new Bitcoins produced every 10 minutes and traded through online exchanges such as Mt.Gox.


The future of Bitcoin
Many analysts are now speculating that Bitcoin could soon become an accepted currency around the world.
Bitcoin developer Michael Parsons predicts that it will be a while before the digital currency is used on a wide scale. "I don't think it will be widely used for a while yet until the interface becomes user-friendly. People think they have to understand it to use it," Parsons told RT.
The safety of online transactions with Bitcoin has been called into question by the numerous hacking attacks on Mt.Gox and Instawallet, a popular service used for storing Bitcoins.
Still, other experts are confident that Bitcoin will soon enjoy mainstream use. Entrepreneur William Mook told RT he believes that Bitcoin will become widely used in just 90 days: "Bitcoins are about $2.8 billion right now, and we need to have $8 billion in circulation before retail will become interested in this. So we are about 90 days away from that."
Mook also argues that the digital currency is safer to use than real money, since it is not "altered by politics as the people in Cyprus found out."
"Numerical properties control Bitcoin. We are where the Internet was before the web browser. The e-wallet is a test system, and there are lots of programmers working on improving e-wallets, and within the next 30 to 60 days we will see lots of interesting services come out," Mook explained.
Bitcoin user Aaron Koenig agrees: "The EU did a great PR job for Bitcoins when they seized bank accounts in Cyprus. Since then, people have gone Bitcoin crazy. Bitcoins are secure. No one can seize them, no one can freeze an account."
A growing number of retailers have begun to accept Bitcoins as payment. Bitcoins can now be used to buy a wide array of goods, including cars, consumer goods, houses, drugs and hard currency. 
German Bitcoin bar owner Joerg Platzer believes that the digital currency is a workable alternative to using the flawed and centralized global financial system.
"Every day you decide not to use a free and decentralized currency like Bitcoin, you decide to support the existing financial system with all its flaws," Platzer told RT. "There's no organization, no institution that can control the financial system of Bitcoin. No banks, no credit card corporation, which means no fees. No one stop you from sending money from A to B."
Cyprus will soon become the first place in the world to feature a Bitcoin ATM machine, which will provide users with an alternate means of accessing their frozen funds.
 "I am convinced Bitcoin will be the currency of the future... and all the attacks on it by governments and central banks shows they know it," BitcoinATM CEO Jeff Berwick said.
"It is wholly our intention at BitcoinATM to put the company in the right position to open its very first ATM in Cyprus. If we did this now, and we are moving quickly to make this so, we would be the only functioning ATM on the island," Berwick explained in a press release published at the end of March.
Cyprus recently adopted strict measures to stay afloat after receiving a €10 billion rescue package from the troika of international lenders. In return, all depositors in Cypriot banks with accounts over €100,000 will see up to 60 percent of their money frozen under the bailout terms.
The inventor – or inventors – of Bitcoin remains a mystery. The currency was introduced in 2009 after a research paper was released outlining the alternative system, signed by someone with the pseudonym 'Satoshi Nakamoto.'
You can share this story on social media: