Betrayed by G-8: L'Aquila still in survival mode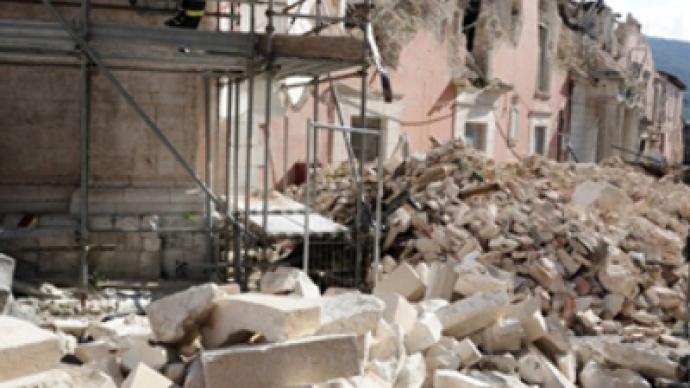 The TV cameras, reporters and the political leaders from across the world are long gone. Now, the thousands of quake survivors face new problems in the encampments while the ground continues to shake.
"Our tent cities are becoming ghettos," says 42-year-old Loredana, owner of a jewelry shop in L'Aquila's devastated historic centre. Loredana lost both her shop and her home in the quake and now lives in one of the 149 tent cities scattered throughout the quake-hit city. Now she is most worried about how long she and her family will survive the tents.
"It was a good idea to hold the G8 summit here so the world could realize the extent of the devastation, but we've already been forgotten. The tents are difficult and things are getting worse day by day. People are becoming aggressive because mass desperation is setting in," she says.
The devastating April 6 earthquake left a large part of the central Italian city in ruins. The tents were supposed to be temporary, but some 25,000 earthquake survivors have been living in them for over three months and there is no word on when they will be allowed to return to their homes – those homes, of course, that are still standing. Many people have lost everything: loved ones, their homes, personal possessions and jobs.
People in the tents look like war refugees, and their city looks like it has been bombed for days. There are gaping holes and cracks in walls, buildings twisted at their base, windows and doors that flap open in the wind, landslides and piles of rubble everywhere. The city is teeming with volunteers, military officers, fire fighters and police who are there to service the homeless and prepare the city for reconstruction. But the tents have inevitably become pockets of despair where lawlessness reigns supreme.
"On May 29, we reported to the authorities that there was a prostitute who was continuing to 'service' clients in her tent, but no has done anything about it. In the meantime, what are we supposed to tell our children?" Loredana says with concern. "There was even a stabbing last month."
'We want our lives back'
At the three-month mark, the majority of people in the tents now want out, ready to rebuild their lives and reclaim their city. "Enough is enough. We can no longer live alongside criminals and drug addicts. Unemployment is soaring and our city is falling to pieces. The state needs to keep its promise and start rebuilding immediately, not re-asphalt roads or plant flowers in the roundabouts like they did for the G8 summit," says Myriam, a pub owner from L'Aquila.
Instead of living in the tents, Myriam and her husband decided to build their own makeshift hut on her parents' front lawn. "We built our own accommodation at our own cost. I didn't want my children to have more horrible experiences – the quake and the aftershocks were enough."
Myriam lost her pub, located in the historic centre, in the earthquake, so she set up a temporary beer hut on the outskirts of the city. Her clients are volunteer personnel and law enforcement officers. Thanks to them she was able to reclaim her business and start working again.
"Many shop owners have left L'Aquila to open up their shops in nearby cities, convinced that we would be in this condition for years, even decades. If residents continue to leave, soon there won't be any point rebuilding the city. I was tempted to leave too but where could I go? I don't want to uproot my children. Instead I want to continue to work and be able to leave something of value to them, if I can," Myriam says.
She is grateful to the volunteers, firefighters and military for their help and support in such a trying time for the city. However, she laments that the city administration has done nothing to help her and her family get by, especially financially. "I still haven't received the 800 euros that were promised to all earthquake victims, nor has anyone else. To boot, I was even given a 4,500-euro fine by the mayor for having occupied too much space with my beer hut; I was so upset I didn't eat for days. How can they fine me for trying to get my life back on track?" she asks with anger and frustration.
L'Aquila's 'emotional' aftershocks
The emotional aftershocks of the earthquake abound in L'Aquila, and the common denominator is fear. At the slightest noise, most people jump to their feet in terror. The majority of squatters are suffering from post-traumatic stress disorder following the quake, volunteer doctors report. Now they are confined to live in very tight quarters alongside total strangers. "You need always to be on the alert in the tents," says Mario, a high school student. "You don't know who you are sharing with."
There are also health risks. "My grandmother got bronchitis from living in the tents", he explains. "It's 40 degrees under the scorching sun and it drops to 15 degrees at night. Not to mention the when it rains and everything floods. Recently, we were even invaded by swarms of grasshoppers. You would think it was a story from the Bible," Mario quips.
Generally, there is widespread fear that these temporary shelters could become permanent as funds diminish. "Those who are responsible for the reconstruction will eventually disappear, and we will be left to fend for ourselves," says a 45-year-old woman named Gaetana.
For seismologists, the April 6 earthquake was classified as medium, measuring 6.3 on the Richter scale. For Italy, it became a national tragedy, resulting in an unprecedented display of solidarity. For the people of L'Aquila it was utterly devastating, and the homeless fear it will only get worse before it gets better.
Brenda Dionisi for RT
You can share this story on social media: