Berlusconi seeking Italian economy minister post in elections deal with Northern League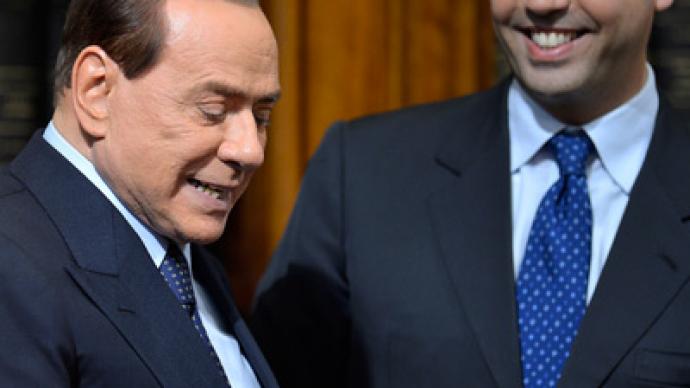 Former Italian Prime Minister Silvio Berlusconi said Monday he has reached an agreement with the Northern League, a regionalist political party, to run in the February elections. If elected, Berlusconi said he wants to become the economy minister.
Berlusconi's People of Freedom Party (PDL) would support Robert Maroni, leader of the Northern League, in his candidacy for president of the northern Italian region of Lombardy. Berlusconi told an Italian radio station that he has agreed to a deal with Maroni, whose party was a coalition partner in Berlusconi's last government. The former prime minister gave no details of the agreement, other than vowing to be a "leader of moderates" in a center-right coalition with the League. The Northern League has called for more of Italy's tax revenue, which currently are collected by the central government, to go to the country's regions instead. The group believes that the wealthier north is subsidizing the country's south, which it accuses of being corrupt and economically backward. The League also supports tough anti-immigration policies, and favors granting more power and autonomy to Italy's 20 regions. It was not yet certain who would be prime minister of this center-right government. The most likely candidate was PDL Secretary Angelino Alfano, Berlusconi said, adding that Alfano would nonetheless remain head of the PDL and the coalition: "It will be the head of the coalition who would indicate who will be the prime ministerial candidate if we win."Berlusconi had previously insisted that he would be the PDL's candidate for prime minister.An opinion poll published Sunday in the Corriere della Sera newspaper suggested that a center-right alliance between the League and the PDL would garner about 28 percent of the vote. Mario Monti's centrist bloc would pull in about 15 percent, the poll reported. Monti ran a technocratic government as Italy's prime minister after Berlusconi stepped down in November 2011, until he resigned in December 2012.Berlusconi supported Monti's government until last month, when he opposed Monti's reintroduction of a controversial property tax on primary residences, and his promise to reduce income taxes for lower earners.Monti has repeatedly said he wants to cut income taxes for low earners, and that a planned value-added tax increase can be averted if the election winners are "ready to say no to special interests."Both Berlusconi and Monti have been making numerous appearances on radio and television ahead of the elections on February on 24 and 25.  The center-left coalition led by Pier Bersani of the Democratic Party leads the pre-election polling, with an estimated 38 to 39 percent of the vote, the survey found. The anti-establishment 5-Star Movement, led by comic Beppe Grillo, dropped to 13 to 14 percent, from 17 to 19 percent a month ago.The PDL and Northern League were coalition partners in Berlusconi's previous government until longtime League head Umberto Bossi withdrew his support, leaving Berlusconi unable to hold onto his office at the end of 2011.Bossi was later forced to resign for his involvement in a financial scandal in which he misused party funds. Berlusconi is also appealing a fraud conviction, and is embroiled in a lengthy trial over accusations that he paid for sex with a minor.
You can share this story on social media: