Blast strikes Benghazi 1 year after US consulate bombing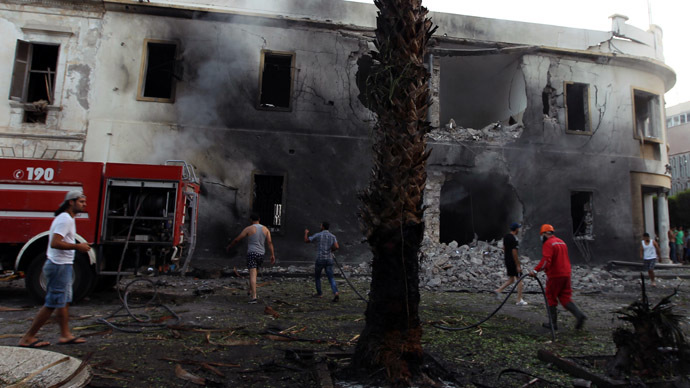 A bomb explosion has caused serious damage to the Foreign Ministry building in the Libyan city of Benghazi. It comes on the anniversary of the attack on the US consulate in that city which killed the ambassador and three aides.
Witnesses say that the explosion was caused by a car bomb and it is not yet clear if there are any casualties. Photographs of the wreckage show a large section of the Foreign Ministry has been destroyed as well as parts of the nearby local headquarters of the central bank.
Another photo of the explosion on the Foreign Affairs ministry in #Benghazi#Libya ( While trees Burns ) pic.twitter.com/iCTgjcKSIt

— Sami M Berriwen (@ModernLibya) September 11, 2013
The US diplomatic compound in Benghazi was attacked on September 11 last year by a group of heavily armed militants. The early morning attack left four Americans dead, including US Ambassador J. Christopher Stevens. Following the incident Washington strongly condemned the attack and attributed it to anti-Western protests in the region.

Washington later reevaluated its assessment of the situation, stating that the attack was most likely planned in advance by Al-Qaeda-affiliated militants.

Since last September's attack, outbreaks of violence have become more commonplace in Libya, as tensions rise between the population and the militia groups left behind after assisting in the ouster of Colonel Gaddafi in 2011.

Libya's interim government has failed to bring the country's militia groups under control over two years after Gaddafi;s removal. The militia groups are often heavily armed and enforce their authority in the rural communities where they have entrenched themselves.

Libyan Foreign Minister Mohamed Abdulaziz told RT's Arabic channel Rossiya al-Yaum that security is of paramount importance to Libya's National Congress.
"It is extremely important that the government and the National Congress are capable of responding to the type of challenges we have at the moment," said Abdulaziz, stressing it is necessary to sure up the Libyan police service to enforce government authority.