€9 billion to sacrifice Lukashenko's principles?
Published time: 3 Oct, 2011 13:41
Edited time: 3 Oct, 2011 17:41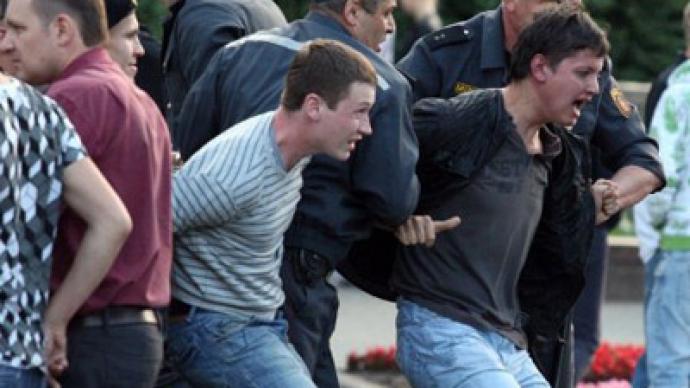 The IMF's offer of a loan to Belarus in exchange for political reforms has given rise to a sudden change of heart in Minsk, which has promptly released an opposition leader from jail while denying any link with the lure of hard cash.
Belarusian Foreign Minister Sergey Martynov has stated there is no connection between the discharge from prison of former presidential candidate Dmitry Uss and fulfilling the demands of the EU.
Martynov insists his country is simply following its own laws and is not responding to any external demands.
"In this country we take decisions proceeding from the demands of our own," Martynov stressed.
The decision to grant Minsk a €9 billion credit line was announced by Polish Prime Minister Donald Tusk at the summit of the Eastern Partnership. The money will be used to stabilize the Belarusian rouble and relax the country's visa regime.
"We are going to deliver to the message to the Belarusian authorities that our conditions are a full amnesty for political prisoners, negotiation with the opposition and parliamentary elections complying with OSCE standards," the Polish PM announced on Friday.

The very next day, the former presidential candidate Dmitry Uss was granted a pardon by decree of President Aleksandr Lukashenko, releasing the detainee from the prison's hospital where Uss has been receiving treatment since his health deteriorated last week.
Presidential candidate Dmitry Uss was among those who got prison terms after disturbances in May. Uss himself was sentenced to five and a half years in prison on charges of organizing mass disorder. The opposition had been protesting at irregularities in elections conducted the previous December, whose conducted was widely criticized internationally.
President Aleksandr Lukashenko has repeatedly stated he is ready to release oppositionists, although until now he has made no concrete steps in that direction. The Belarusian leader has started to talk about a rapprochement with Europe, denying, though, the possibility of exchanging prisoners for IMF loans.
The head of the Belarusian National Bank, Nadezhda Ermakova, has announced plans to conducts talks with the IMF to get the loans needed to refinance previous borrowings.
In a speech to parliament on Monday, Ermakova mentioned that an IMF monitoring mission is already on its way to Minsk to hold talks and decide how to organize refinancing of earlier loans.
Deputy Finance Minister Vladimir Amarin has expressed the hope that the decision of the commission, which starts work on Tuesday October 4, will be positive, and that that will allow Belarus to get the billions of euro it needs.
More loans from around the world
In fact, Belarus is taking all the loans it can get. Nadezhda Ermakova also unveiled plans to obtain $400 million credit from Iran, which "has already given its agreement in principle."
By the end of October, Belarus is due to get yet another tranche from EurAsEC (Euro Asian Economic Community) worth a further $440 million.
At the end of September, Minsk announced it was working on an agreement with Beijing to get another $1 billion loan.
The possibility has not been ruled out that Russia's Sberbank will give Minsk a further $1 billion loan secured against shares of state-owned Belarusian companies.
In 2010, Minsk issued $600 million-worth of securities for the first time, and the step proved successful. Since then, however, the situation in the national economy has worsened significantly.
Belarus desperately needs foreign currency to stabilize a national economy plunged into crisis since the beginning of this year.

In May 2011, the country's National Bank had to significantly devalue the national currency, and in September, the decision was taken to free the exchange rate. The Belarusian rouble immediately dropped to a third of its previous value against the dollar, but later started to grow and has somewhat recovered.   Today, the exchange rate is 5,700 Belarusian roubles to the dollar while in January it was around 3,000.