Golden teddy-bear pic: Belarusian journos severely fined defending free speech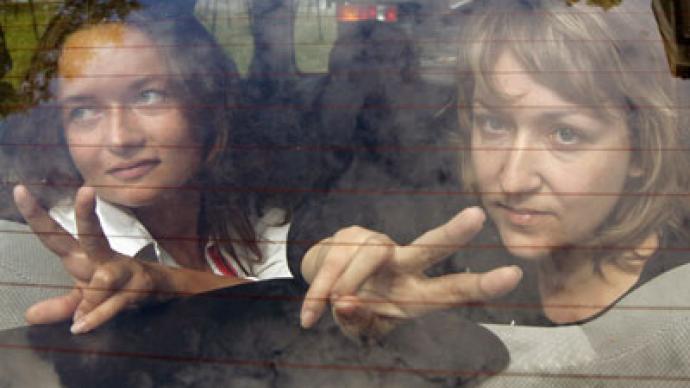 How would you like to pay your monthly salary for a picture with a teddy-bear? A Belarus court has ordered that journalists who took pictures with the toys be fined 3 million Belarus rubles, some $360, which is the average salary in the country.
The rather expensive photo-shoot took place last week in Minsk, when journalist Irina Kozlik and photo-journalist Yulia Doroshkevich took several pictures with teddy-bears as part of a flash mob for free speech in Belarus. Their actions were classified by police as an 'unauthorized rally' and both journalists were arrested. On Thursday it was announced that Kozlik and Doroshkevich are to be fined.The journalists' flash mob was organized in support of photographer Anton Suryapin, who was arrested after posting pictures of Swedish teddy-bear paratroopers on the web.On July 4, Minsk was subjected to a mass drop of teddy-bear paratroopers holding banners advocating a free press and free speech in Belarus. The event was organized by two Swedish activists who flew over Belarus in a light plane, illegally crossing the border. At first the Belarus authorities denied the fact of an illegal border crossing, but two weeks later they confirmed that the plane had entered the country from Lithuania. Belarusian security services arrested two Belarusian nationals following the incident. One was photographer Anton Suryapin, while the other was named as Sergey Bashamirov, who allegedly rented an apartment to the Swedish activists while they were planning the event.
'Mice under the broom'
Belarus is still at odds with Sweden and Lithuania over the incident. Belarusian President Aleksandr Lukashenko said the two countries have to provide necessary explanations in accordance with international norms and if they fail to do this, Belarus will find an adequate response to the situation. "They [Sweden] should pray to God that our kind Belarusians pitied those fliers," he said. "They were registered right after they crossed the border."Lukashenko said that an investigation is underway and the role of the Swedish embassy in the case is yet to be established. He also lashed out at Lithuania."And Lithuania should not hide like mice under the broom. They have to answer why they provided their territory for an illegal border crossing. And when it comes to Lithuania they won`t find it funny!" Last week Belarus expelled Sweden's ambassador from Minsk and has reportedly asked two other Swedish diplomats to leave as well.Lukashenko, however, says the diplomatic decision is not connected with the teddy-bear invasion. "Some connect this problem with either teddy-bears or elephants. But it is absolutely different things," BELTA news agency reports him as saying.According to Lukashenko, Sweden and Belarus had earlier agreed to exchange new ambassadors, but this agreement was breached by Sweden, causing the current diplomatic conflict.Belarus authorities have been extensively criticized by the international community for hampering the freedom of speech in the country. Lukashenko was even dubbed by the media as the last dictator in Europe. Belarus authorities have been extensively criticized by the international community for hampering freedom of speech in the country. Lukashenko has been dubbed the last dictator in Europe by the media.