Battle in LA following Lakers' success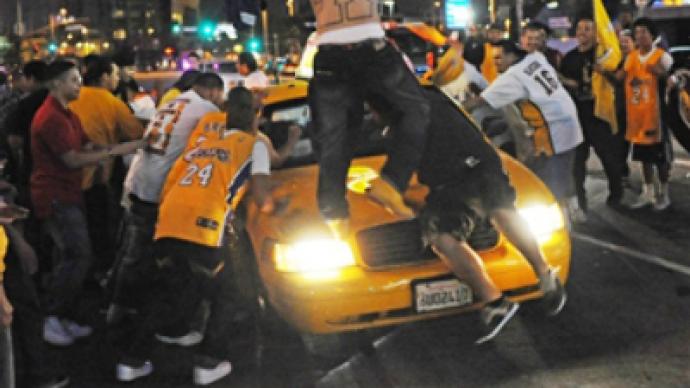 Following the LA Lakers historic win over the Orlando Magic in the NBA finals, thousands of fans flocked into the streets outside the Staples Center in the City of Angels, but the celebration was by no means peaceful.
Prior to sunset, the festivities were sedate with non-offensive dancing in the area around the Staples Center, the Lakers home arena. However, nightfall brought a different crowd onto the streets of Los Angeles.
As police managed to take control of the larger mob scenes, smaller groups were able to run rampant and cause havoc. Fans swarmed vehicles trying to pass through the area, jumping on their roofs and bonnets or rocking them back and forth. The revelers damaged at least one police vehicle, throwing rocks and bottles at officers and starting bonfires, AP reports.
Several groups also decided to take down street signs and billboards while there were no police in sight.
The final number of arrests and damage estimates has yet to be determined, but recent reports suggest at least 25 hooligans have been arrested.
Despite the unrest, the Los Angeles authorities plan to honour the Lakers with a proper victory parade on Wednesday.
You can share this story on social media: