'Dinosaurs of financial services': UK banks accused of irresponsible lending
Published time: 27 Apr, 2013 09:47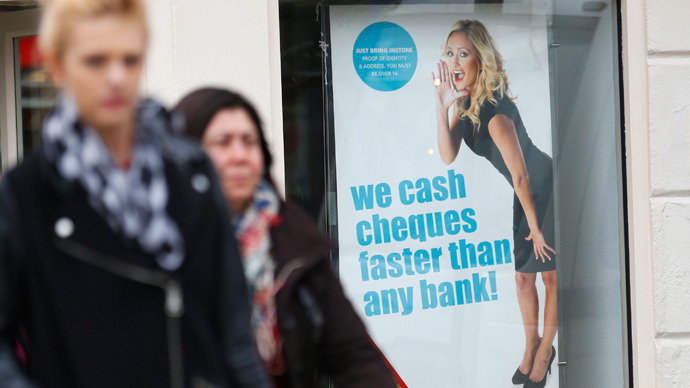 British banks have been accused of turning their backs on some of the country's poorest people. The Citizens Advice service, the UK's largest advice provider, claims that banks have been shutting people in need out of mainstream banking.
"Banks risk becoming the dinosaurs of financial services, outstripped by new lenders who are quick to meet the demand for immediate credit," Citizens Advice Chief Executive Gillian Guy has warned.

She says in the past four years, the number of debt problems taken to the bureaux involving payday lenders has grown tenfold, as some of the UK's poorest were left "at the mercy of predatory payday lenders."

Evidence gathered by Citizens Advice service has revealed a range of problems with the current payday loans industry, including excessive interest rates and charges, lack of clarity on how much the loan will actually cost, rolling over loans without permission, pressure to take out more loans as well as irresponsible lending of loans to people who can't afford to pay them back.

During 2010 and 2011, the charity – which helps resolve legal and financial difficulties – advised clients on some 2.2 million debt problems.
Citizens Advice maintains that banks should take the responsibility for the growth of the payday loan market and come up with an alternative by offering a low-interest solution to those who need short-term credit.
In March of this year, the 50 leading payday lenders, which account for 90 percent of the UK's payday loans market, were given 12 weeks to change their business practices after the Office of Fair Trading uncovered evidence of
"widespread irresponsible lending and failure to comply with the standards required." The lenders failed to conduct adequate assessments of affordability before lending, to explain adequately how payments will be collected, used aggressive debt collection practices and were not allowing borrowers in financial difficulty to go into forbearance.
The 50 leading lenders must now take rapid action to must demonstrate they are fully compliant, or risk losing their licenses to operate in the £2 billion industry.
According to the OFT, irresponsible lending may have its roots in the nature of competition. Lenders were found to compete by emphasizing the speed and easy access to loans, rather than the price. When borrowers are granted loans they cannot afford to repay, payday lenders' revenues become heavily reliant on those customers.
Despite payday loans being described as one-off short term loans, costing an average of £25 per £100 for 30 days, up to half of payday lenders' revenue comes from loans that last longer and cost more that  are rolled over or refinanced, the OFT has found.
"We have found fundamental problems with the way the payday market works and widespread breaches of the law and regulations, causing misery and hardship for many borrowers," OFT Chief Executive Clive Maxwell said.
One-third of UK residents only have enough money to pay rent one month at a time. A recent YouGov poll has found that up to 35 percent of poll respondents, 8.6 million Britons, would be unable to pay rent from savings. The study, which was published earlier this month, polled 2,000 UK residents. If these statistics are extrapolated to the entire UK population, 3.9 million British families could be just one paycheck away from losing their family home.
Britain's economy re-entered recession in 2012, its first double-dip recession since 1975, and has been much slower to recover from the global financial crisis than most large economies, such as the US, Canada and Germany. UK unemployment rose to 2.56 million in April, the Office for National Statistics said. Some 70,000 lost their jobs and 'went on the dole' between December and February 2013.