Britain avoids triple dip recession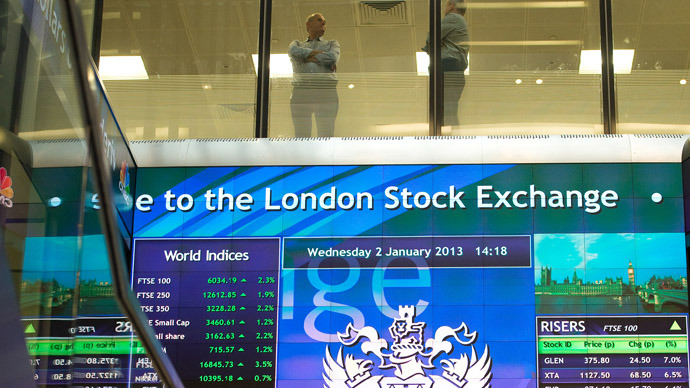 Britain's economy dodged an economical bullet as first quarter expansion grew by 0.3percent, exceeding economists' forecasts.
The GDP rose 0.3percent, the Office for National Statistics said in London on Thursday, far outperforming Bloomberg's 0.1percent forecast.
Year-on-year, the latest GDP was 0.6 percent higher, the strongest rise since the end of 2011.
Thursday's data was relieving for Chancellor George Osborne and the conservative-led government who have been campaigning for austerity over growth. 
The government has faced pressure after the Fitch ratings agency downgraded the UK last week from AAA to AA+, which prompted incoming Bank of England Governor Mark Carney to label Britain as a 'crisis economy'. Fitch's rating strip followed Moody's downgrade.

Pressure also mounted last week when the International Monetary Fund recommended the government should relax their fiscal tightening to foster growth.
"We all know there are no easy answers to problems built up over many years, and I can't promise the road ahead will always be smooth, but by continuing to confront our problems head on, Britain is recovering and we are building an economy fit for the future," George Osborne said in a statement, Reuters reported.
Services rose 0.6 percent in the fourth quarter, which was boosted by distribution, hotels, and restaurant industries.
Production also increased, up 0.2 percent, while construction dropped by 2.5 percent. The biggest swell came from mining and quarrying, up 3.2 percent.
At the news, the pound soared against the dollar, opening at 1.5267 and hitting a high of 1.5453, and at 11:46a.m. London time, was up to 1.5439, up a full 1 percent from yesterday.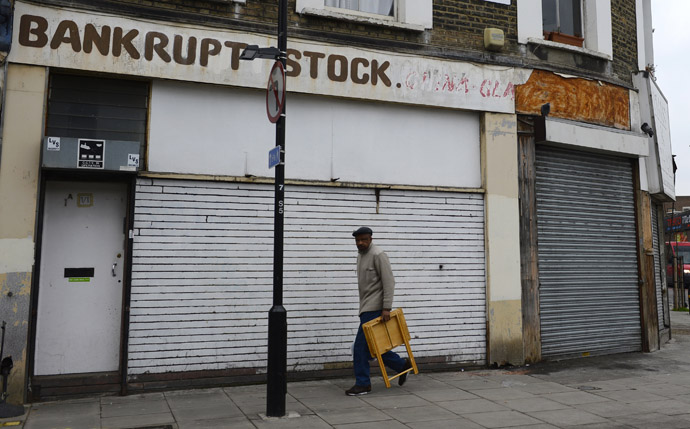 Finance Minister George Osborne said Thursday's data was encouraging and promised to continue bringing relief to Britain's haggard budget problems.
Britain's government, teamed with the Bank of England, are simultaneously trying to boost growth without increasing spending, quite the balancing act.
On Wednesday the Bank of England announced its plan to extend bank lending by lowering the cost of borrowing, hoping to bring a 'big boost' to small and medium-sized businesses.
Britain has been much slower to recover from the financial crisis than most large economies, as the US, Canada, and Germany have all reached per-recession economic levels. The longest peacetime economic slump since 1920, according to the National Institute of Economic and Social Research, is plagued by high inflation, weak euro zone demand, and austerity measures.
Britain's economy re-entered recession in 2012, the first double dip recession since 1975, triggered by the 1973 oil and steel crisis as well as the 1973-1974 stock market crash. Labor strike brought the public sector to a stands till, and inflation was rampant. 
The recession prompted the government to pump £200 of new capital into the economy through 'quantitative easing' an unprecedented measure by the finance ministry. 
Currency also took a big hit in the recession- a survey by Lloyds TSB Private Banking shows that over the past 30 years the British pound's value has fallen by almost two thirds.
UK unemployment rose to 2.56 million in April, according to the Office for National Statistics has said. 70,000 lost their jobs and 'went on the dole' between December and February 2013.
Until 2008, when Britain dipped into recession in Q2, growth rates between 2000-2008 were consistently between 1.5-3 percent, and inflation hovered around 2%.