Sliding pound: British currency loses 67% of its value over last 30 years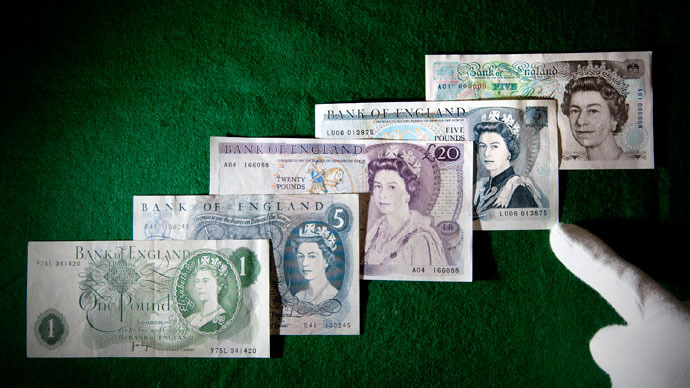 While the British pound slides on the currency markets in reaction to a downgrade of the UK's triple-A credit rating, examination of its purchasing power shows it has had an even more dramatic decline over the last three decades.
A survey by Lloyds TSB Private Banking shows that over the past 30 years the British pound's value has fallen by almost two thirds.
In other words one would need £299 today to have the equivalent spending power of £100 in 1982.
According to Lloyds TSB Private Banking, the decline by a further 56 per cent over the next 30 years is inevitable if retail prices continue to rise at the current pace.
The pound tracking against a basket of currencies has reached its lowest level since July 2010 on Monday reaching $1.5069 against the dollar; this follows the Moody's downgrade of the UK's cherished triple-A credit rating to AA+. It also dropped to a three-year low against the dollar last week. Later on Monday the British currency showed signs of recovery going up to $1.5144.

"People in the UK are feeling progressively poorer," Mike Ingram market analyst of the BGC brokers told RT.
"The real wages in the UK are back to where they were in 2003. That's a decade without any increase in prosperity effectively wiped out," he said.

You can share this story on social media: