Homelessness rife in UK: Research shows millions are paycheck away from losing home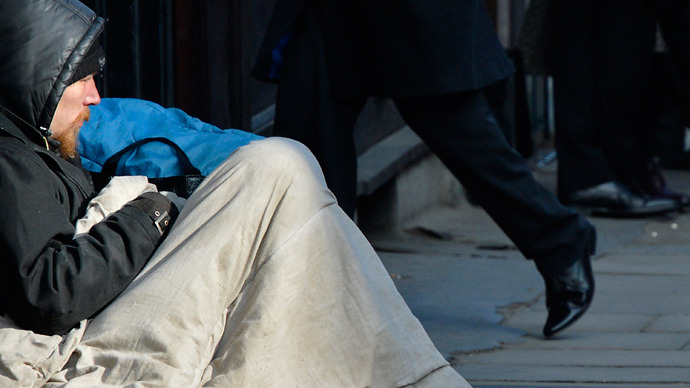 One-third of UK residents only have enough money to pay rent one month at a time, meaning millions only have a paycheck-sized buffer between themselves and losing their homes. For entire families, the situation is particularly dire.
Some 35 percent of poll respondents – equivalent to 8.6 million Britons – would be unable to pay rent from savings, a recent YouGov poll found. The study, published on Thursday, polled 2,000 UK residents. If these statistics are extrapolated to the entire UK population, 3.9 million British families could be just one paycheck away from losing their family home.

Britons can lose their homes very quickly if they miss payments, especially both members of a resident couple are laid off in a short space of time.  If mortgage payments are not made on time, homes can be repossessed – especially if further outstanding debts are secured against the house, as was the case with a resident from Kent, southeast England.
"We knew there was no hope. We looked for help from the council and even tried renting the house out, but things spiraled out of control right away," he told the Guardian.

If a tenant falls behind on rental payments and refuses to leave, the landlord can issue two eviction notices, and the tenant is taken to court and evicted if payments still have not been made. Landlord autonomy and decentralization means that tenants have little protection, and councils have been heavily criticized in the past for failing to support those at risk of homelessness.

Unemployment in the UK rose by 7,000, to 2.52 million in the three months before January 2013, according to the Office for National Statistics.

UK housing charity Shelter said it is "bracing itself" for a surge in demand for housing, especially amid the recent wave of welfare reforms that has struck the UK. The charity's work involves providing support for those facing problems with homelessness and housing.

In the last two weeks, the UK has implemented welfare cuts, benefit reforms and cuts to central council funding, which has spurred over 70 percent of local councils to impose a minimum council tax payment, hitting low-income families especially hard.

Among poll respondents, 18 percent – equivalent to 4.4 million people, one-fifth of Britons – would be unable to pay rent or mortgage at all if they did not immediately secure new employment after losing their job.

"Millions are living on the edge of a crisis, only secure in their homes for a matter of weeks. At the same time, support for people who have lost their homes is being stripped away," Shelter Chief Executive Campbell Robb said.

You can share this story on social media: