4 killed, 600 injured as Bangladesh protests turn violent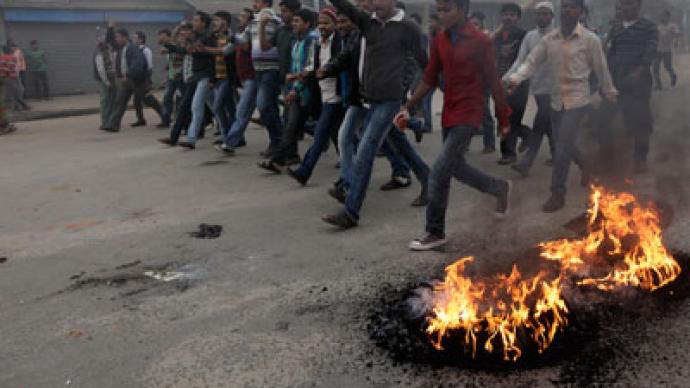 Four people were reportedly killed and 600 injured when police fired rubber bullets and tear gas at protesters in Bangladesh. Violence has erupted amid a call for the restoration of a caretaker administration to oversee national elections.
"Our four people were killed and 600 leaders and activists were injured in attacks by police and ruling party men across the country," said Mirza Fakhrul Islam Alamgir, acting secretary general of the Bangladesh Nationalist Party (BNP), as cited by Xinhua.Protesters reportedly threw small handmade bombs, stones, blocked roads and set fire to vehicles, destroying more than 100 cars during clashes in the capital.Police arrested 50 people during the violence. Around 10,000 officers were positioned throughout the country to keep highways open, AFP reported.One protester died in a knife attack during violent clashes between pro- and anti-government activists in the Sirajganj district northwest of Dhaka, local police reported. Another demonstrator was killed by a speeding bus when protesters rushed to stop it.
The protests were organized by 18 opposition parties, who called for a shutdown of the nation's roads until a neutral caretaker administration was restored to oversee the 2014 elections. The transitional system was originally institutionalized in 1996, but was scrapped last year by Prime Minister Sheikh Hasina's government on the basis that it was unconstitutional. The caretaker government is responsible preventing election fraud by organizing elections and the transfer of power. It is given three months to do so, and is headed by nonpartisan officials.
The Bangladeshi opposition fear that Prime Minister Hasina will now have the power to rig the upcoming election. The last four elections in the country were held under the caretaker government system; many opposition parties are saying that they will not participate in the upcoming polls unless the system is restored. The previous caretaker government in 2007 tried to crack down on corruption by sending hundreds of politicians, including Hasina, to jail on charges of abuse of power. All were later released before the 2008 general election.
You can share this story on social media: