Bangladesh on nationwide strike over anti-Muslim film (PHOTOS)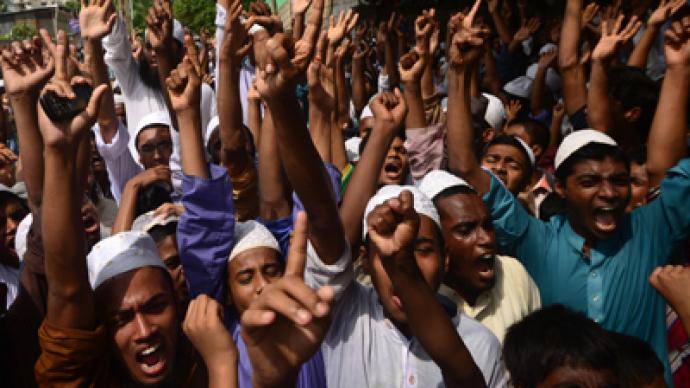 Opposition parties enforced a nationwide shutdown on Sunday to protest against the mocking of the Prophet Mohammed in an anti-Muslim film. The strike followed violent Saturday protests that saw 30 injured and 40 arrested in clashes with police.
Vicious clashes erupted after scores of people flooded the streets to protest against the anti-Islamic film Innocence of Muslims and caricatures of Prophet Mohammed printed by a French magazine, despite a 24-hour ban. Police used teargas and batons to disperse a stone-throwing, out-of-control crowd, which attacked the security forces, torched vehicles and damaged a police van.
­Most schools, shops and offices remained closed on what is normally a working day in the Muslim-majority country. Hundreds of police in riot gear and elite anti-crime Rapid Action Battalion (RAB) forces patrolled streets in the capital and other major cities following the previous day's disorder.

Bangladeshi Muslims chant slogans in front a policeman in a protest rally during a nationwide strike in Dhaka September 23, 2012 (Reuters / Andrew Biraj)
­The Bangladesh government condemned Innocence of Muslims and blocked YouTube in an effort to calm tensions.

Earlier this week Prime Minister Shaikh Hasina demanded intervention from the US government and called on Washington to begin legal proceedings against the filmmakers.

The wave of Muslim demonstrations has swept around the world, raging for more than a week not only in Arab countries, but throughout Europe, Australia and Canada.  Over the days of the protests, which turned violent at times, over 80 people were killed and hundreds were injured.

Pakistan was among the countries to witness the most violent demonstrations. The country's Railway Minister Ghulam Ahmad Bilour has offered a US$100,000 bounty for the life of the filmmaker. The Pakistani prime minister's office later however said the government has nothing to do with the offer
Local people gather as they watch a protest rally near police standing guard during a nationwide strike in Dhaka September 23, 2012 (Reuters / Andrew Biraj)
Bangladeshi Muslims chant slogans in a protest rally during a nationwide strike in Dhaka September 23, 2012 (Reuters / Andrew Biraj)
Local people gather as they watch a protest rally near police standing guard during a nationwide strike in Dhaka September 23, 2012 (Reuters / Andrew Biraj)
Bangladeshi Islamic political party supporter addresses a rally during a nationwide strike in Dhaka on September 23, 2012 (AFP Photo / Munir uz Zaman)